"Abraham and Sarah" - The Marc Chagall and the Bible Evening Devotional with Stephen Chester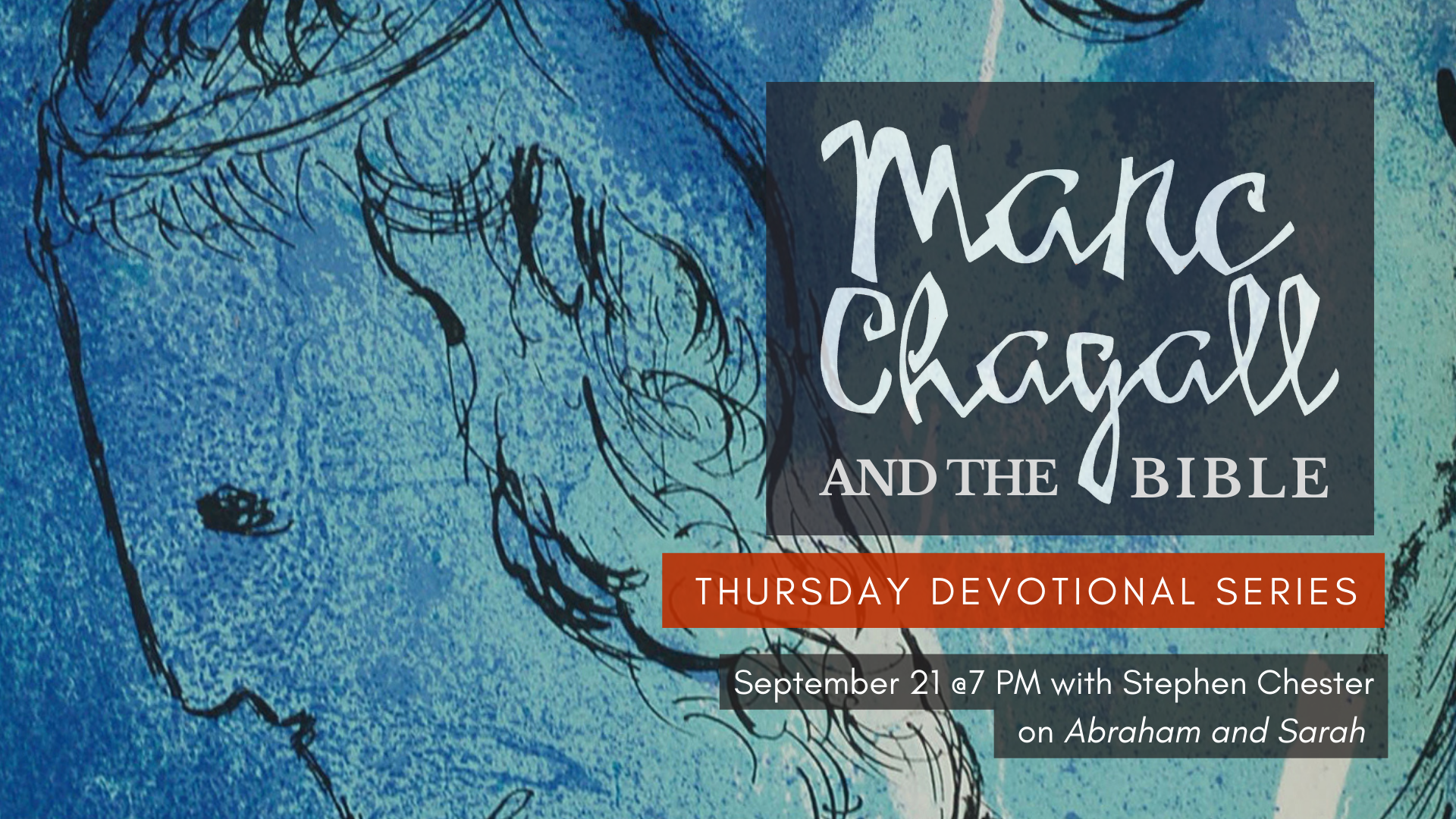 When
Thursday, September 21, 2023 -

7:00pm

to

8:00pm
Where:
5 Hoskin Ave, Toronto, Wycliffe College (The Great Hall)
This talk, led by Stephen Chester, focuses on Abraham and Sarah and the nature of faith. In one of the quieter images in the exhibition, Chagall shows Sarah pensively reflecting on the instruction given by God in Genesis 12 to leave everything and everyone they know and journey to a land that God will show them. If they had decided what to do on the basis of human reason, Abraham and Sarah would have stayed where they were but they trusted God and journeyed in faith. What does it mean for us today to trust God like them?
Stephen is Lord and Lady Coggan Professor of New Testament at Wycliffe College. Stephen's research interests focus on Pauline theology, especially the history of reception of Paul's texts in the Reformation era. They also include conversion in the ancient world and the theological interpretation of Scripture. Originally from Liverpool, England, he also lived for significant periods in both Wales and Scotland before moving first to the United States and then to Canada.
The event is free to the public and no registration is required. Voluntary donations are welcome.
For more information about the exhibition, visit wycliffecollege.ca/chagall.
ABOUT THE MARC CHAGALL AND THE BIBLE DEVOTIONAL SERIES
We are excited to extend an earnest invitation to a unique devotional series in conjunction with the remarkable Marc Chagall exhibition at Wycliffe College.
This extraordinary opportunity to delve into the interplay of spirituality and art will be delivered by an esteemed group of faculty, pastors, and rabbis, each bringing a diverse and profound perspective to the table. Through Chagall's artworks, which beautifully weave faith, dreams, and narratives, these skilled guides will lead us on a journey that transcends the visual to touch the divine.
This fusion of art and faith is designed to invoke thought, introspection, and inspiration, regardless of your artistic or spiritual background. Join us in this enlightening voyage that promises to deepen your understanding and enrich your spiritual experiences through the lens of art. We eagerly look forward to welcoming you to this extraordinary experience.