Black History Month Wednesday Event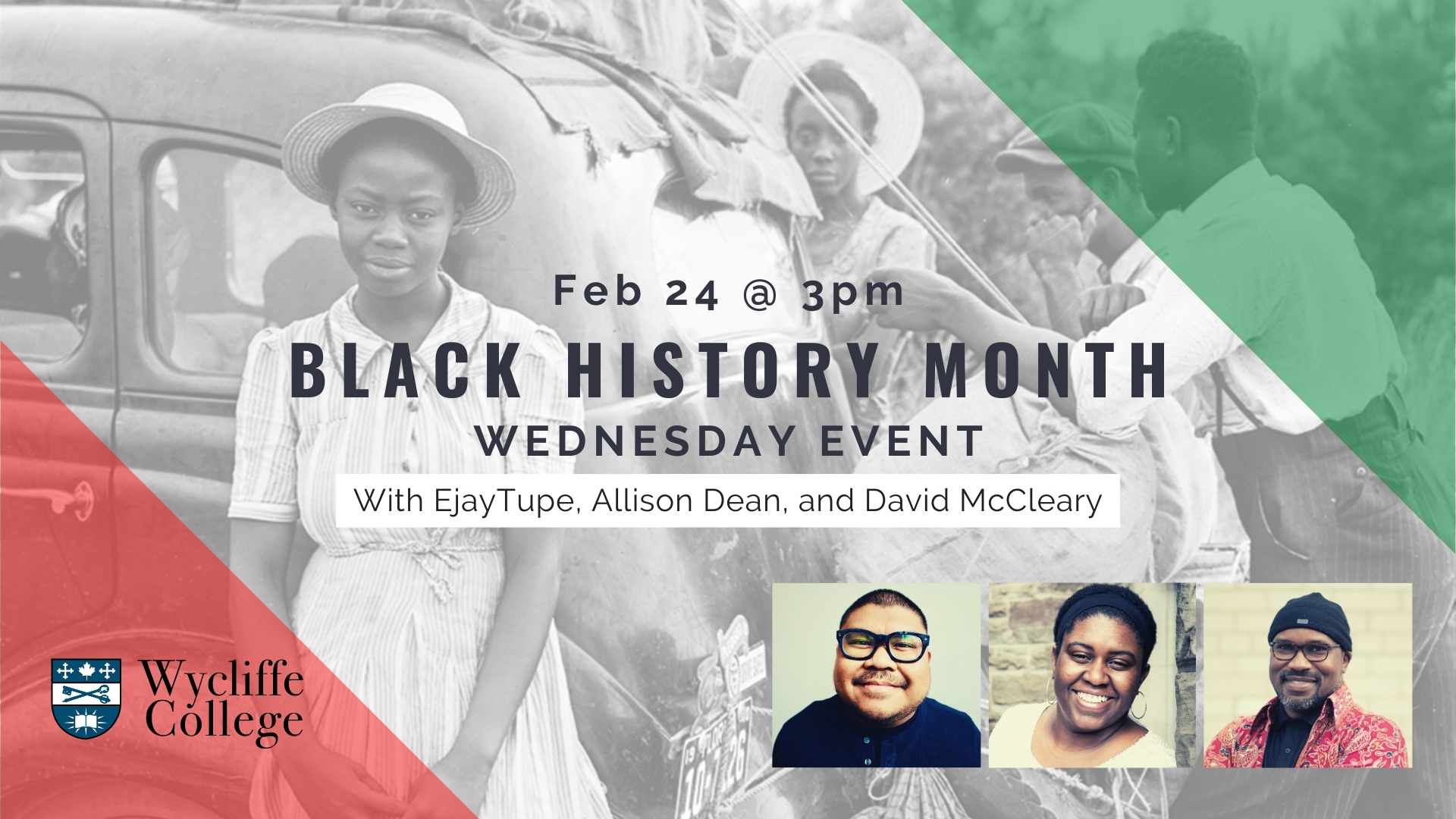 Email:
On Wednesday, February 24 at 3 p.m., we will discuss the importance of Black History for the life and witness of the Church, and explore the dynamics of racial reconciliation and why this is so elusive. We will be joined by David McCleary, who serves in the Baptist tradition and has supervised Wycliffe students, Allison Dean, a recent graduate who has been recently ordained in the Anglican Church, and Ejay Tupe, a current student who is part of a PAOC national working group on the matter of race.
Speaker Bio
The Rev. Allison Dean was ordained in November 2020 in the Anglican Diocese of The Bahamas & the Turks and Caicos Islands. She graduated from Wycliffe College with her MDiv in 2017. She is also a musician, a certified swim coach and trained secondary school teacher. Rev. Allison has a passion for liturgy, working with the young and Christian education.
David Kirk McCleary has been a committed follower of Jesus for many, many,... many years now, having made a personal profession of faith at the age of ten. Over the course of nearly 25 years, David served with para-church organizations, through Christian advocacy and other Christian non-governmental organizations, and also servied in many different positions within the church over the years. Currently David is learning to serve God in the midst of the family of God at East Toronto Chinese Baptist Church, within the Victoria Village community near Victoria Park and Eglinton Avenue East in the north end of Toronto. He is grateful every day for God's grace and guidance and faithful love, expressed in the love and patience of his family, his wife Anna and his three children (all under the age of 8), and his church family and the larger family of God in the larger community.
Earnest (Ejay) Tupe is the first Urban Missionary to Downtown Toronto for the Pentecostal Assemblies of Canada.  He has been serving and living in the downtown core since 2007 as a pastor, street ministry worker and community advocate.  He believes in reaching the neighbourhood both rich and poor alike not only through spoken word, but through practical ways of service.  He is also a champion for Urban Ministry in Canada and is devoted to advancing Urban ministry initiatives within the city as a practitioner and an educator.