How the Reformation Made Our World (And It's Not Done Yet) - with Professor Alec Ryrie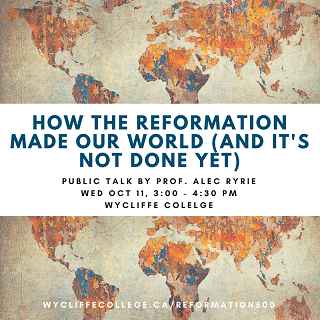 Where:
Reading Room, Wycliffe College, 5 Hoskin Ave, Toronto
Professor Alec Ryrie, Reformation historian from University of Durham, UK, will address the impact of the Protestant Reformation then and now. "Martin Luther had unleashed a spiritual revolution that neither he nor anyone else could define or control. And it's not over yet," says Ryrie in a blog post that he writes for us. This Wednesday event is part of the Reformation 500 Celebration at Wycliffe College.
Alec Ryrie is Professor of the History of Christianity at Durham University and a licensed lay preacher in the Church of England. His books include Protestants: The Faith that Made the Modern World (2017), the prize-winning Being Protestant in Reformation Britain (2013) and The Sorcerer's Tale (2008). He is co-editor of the Journal of Ecclesiastical History.
For more information, please contact Karen Baker-Bigauskas: 416-946-3521, karen.baker@wycliffe.utoronto.ca.
Come and join us for this engaging talk on Wednesday, October 11! It is a free event.