The Legacy of Residential Schools - Wednesday Event with Dr. Martha Many Grey Horses and the Reverend Mark Loyal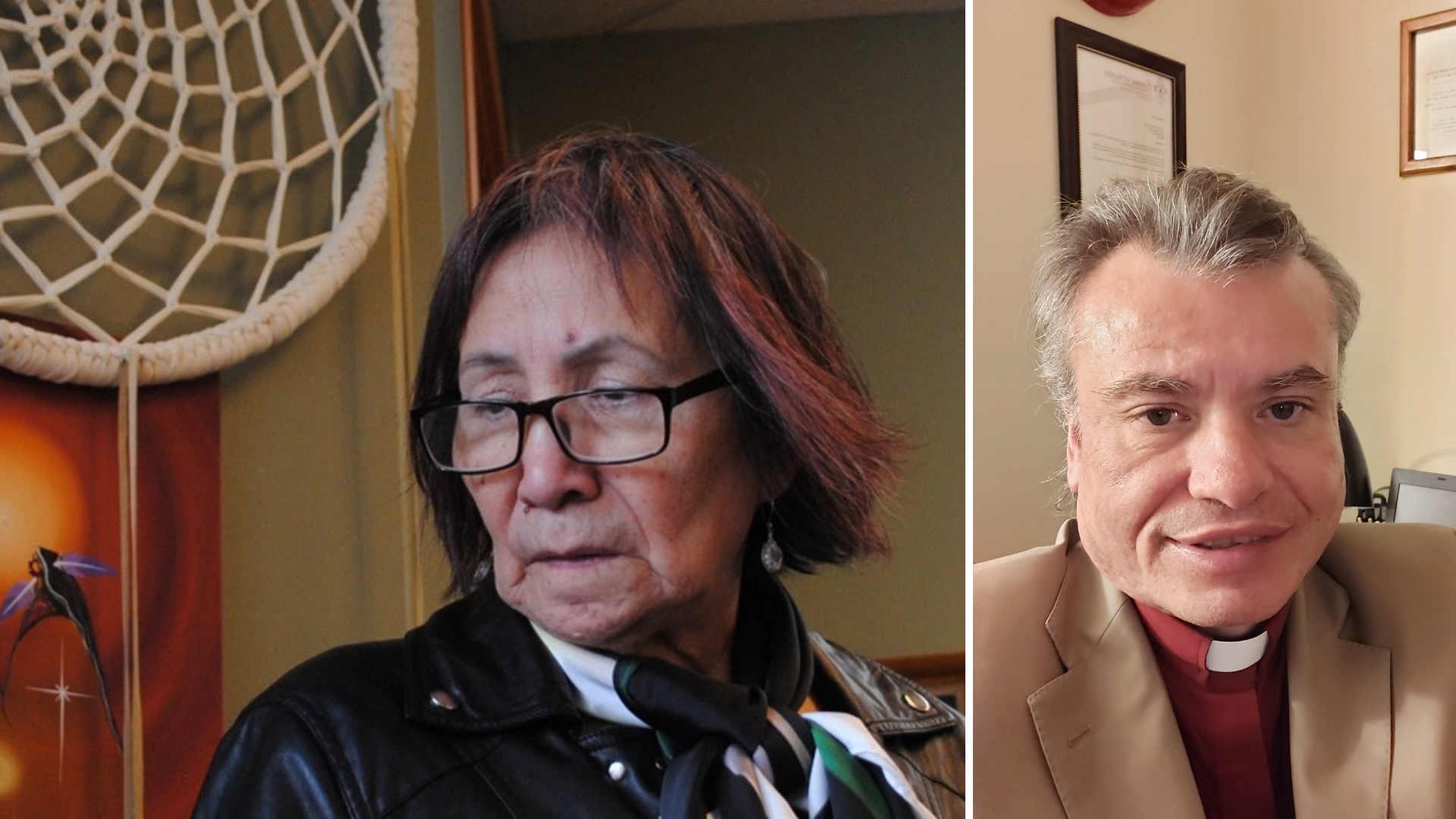 Join us on Wednesday Oct 7 at 3 p.m. in conversation with Dr. Martha Many Grey Horses and the Reverend Mark Loyal. Please register in advance for this meeting.
In Dr. Martha Many Grey Horses' own words, 
"I am a member of the Kainai First Nation of the Blackfoot Confederacy of southern Alberta. My paternal grandmother, Christine Long Time Squirrel took her family to the Anglican Church - the beginning of my family's affiliation with the church. I attended St. Paul's Anglican Indian Residential School on the Blood Indian Reserve. However as a tender junior youth I ran away from St. Paul's Indian Residential School and did not return to it. In my childhood desperation, I solemnly promised my parents I would dedicate my life to finishing my education. I made good of my promise. I earned my Doctoral Degree in Educational Thought and Sociocultural Studies. As a graduate student at George Washington University Institute for Educational Leadership in Washington DC, I met some good people who guided me toward my healing journey so that I began to deal with the hurt and pain of residential school experience. Along this path I began my work with, and for my peers, the healing of the former residential school students. I continue this work as the Coordinator for the Anglican Healing Fund."
Biography
Dr. Martha Many Grey Horses has come full circle with her appointment as director of the University of Lethbridge's First Nations, Métis and Inuit Centre.
Originally from the Kainai First Nation, Many Grey Horses lived, studied and worked in the United States for many years before returning to Canada and more recently to southern Alberta.
Many Grey Horses' duties include managing Iikaisskini, the U of L's FNMI Gathering Place, and co-ordinating initiatives across the University, with institutional partners and in the broader community.
The residential school system, which she entered at age five, did not provide a positive association with education. She persisted nonetheless, completing her primary education at residential school and graduating from public high school in Cardston. While her parents encouraged their children to get an education, they also urged them to continue their spiritual development.
After high school, Many Grey Horses didn't imagine she would go to college. She wanted to be at home where she could devote herself to her two passions — riding horses and sewing dresses. After staying at home for a while, her parents told her it was time to go to college. She began her studies at Mount Royal College.
After completing two years at Mount Royal, she went on to complete a bachelor's degree in social work at Montana State University and a master's degree in social work at the University of Denver. She also completed a fellowship in Washington, D.C., and another master's degree in educational administration and human development at National University in San Diego. Many Grey Horses went on to achieve a PhD in educational thought and social cultural studies from Arbor University in Arizona.
Her early negative experiences with education were transformed when she began attending universities in the United States. There, she was greeted by a welcoming atmosphere and, coupled with the pride of identity shown by her American Indian peers, her perception of her cultural identity began to shift.
Being able to nurture the same desires in today's students by building a community that brings together academic studies and traditional indigenous teachings drew Many Grey Horses to apply for the position of director at the U of L FNMI Centre.
The Reverend Mark Loyal is an aboriginal from the Six Nations Reserve, a band member of the Seneca Nation and belongs to the Turtle Clan.  His Native name is MA KOI YO UK KAMI (Wolf Caller). Mark is a recipient of an Eagle Feather from both the Six Nations Reserve and from the Blood (Kanai) Blackfoot reserve.  Mark was born and raised in Windsor, Ontario and attended the University of Windsor and received a Bachelor of Arts with a major in Religious Studies in 1990.  He attended Wycliffe College from 1990 to 1993 and graduated with a Master of Divinity Degree in May of 1993.  Mark was ordained a deacon in the Anglican Church, Diocese of Huron on May 20, 1993 and a priest on December 5, 1993.  Mark served in the Anglican parish of Six Nations Reserve from 1993 to 1998.  Mark moved to the Diocese of Calgary and served as rector of St. Paul's Anglican Church, Blood (Kanai) Reserve from 1998 to 2001.  He then moved to serve as the associate Priest at St. Peter's, Calgary to 2004. In 2004 Mark then moved to the northern part of Calgary and served as rector of St. Andrew's Anglican Church.  Mark moved to north western, Ontario and served as Rector of St. Paul's, Ear Falls and Chukuni United Church and Cleopas Anglican Parish (A Shared Ministry with the United Church) in Red Lake, Ontario (Diocese of Keewatin).  Mark then went to Sioux Lookout, Ontario and served the parish as rector of St. Mary's Anglican Church with service to a fly in Indigenous Community of the Parish in Cat Lake, approximately 200 kms north of Sioux Lookout.  Mark returned to the Diocese of Huron in 2015 and was the rector of St. John's, Sandwich in Windsor, Ontario.  Mark presently serves as the rector of St. John the Baptist Anglican church, Walpole Island First Nation and Minister to Walpole Island United Church since 2018.  Mark has been ordained for 27 years with almost equal experience in both indigenous and non-indigenous churches and brings his insight, wisdom and worldview as an Aboriginal person and an Anglican Priest.  Mark presently lives in Wallaceburg, Ontario and is completing his Doctorate of Theology in Pastoral Theology from Andersonville Theological Seminary, USA.  Mark has one adult daughter; Kathryn and she is presently living in Wycliffe College as a graduate student resident as she completes her Masters of Social Work at the University of Toronto.