Now Thank We All Our God: Hymns of the Reformation and the Rise of Congregational Singing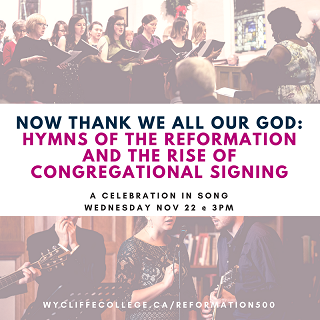 Where:
Founders' Chapel, Wycliffe College, 5 Hoskin Ave, Toronto
The Wycliffe College community will join in this celebration in song of hymns inspired by Reformation ideals. This event will start with a theological introduction and will be led by organist-choirmaster Giles Bryant.
This event is part of the Reformation 500 Celebration at Wycliffe College. For more information, please contact Karen Baker-Bigauskas: 416-946-3521, karen.baker@wycliffe.utoronto.ca.