Scripture and Theology Colloquium: "Apocalyptic: The Heart of Paul's Gospel?"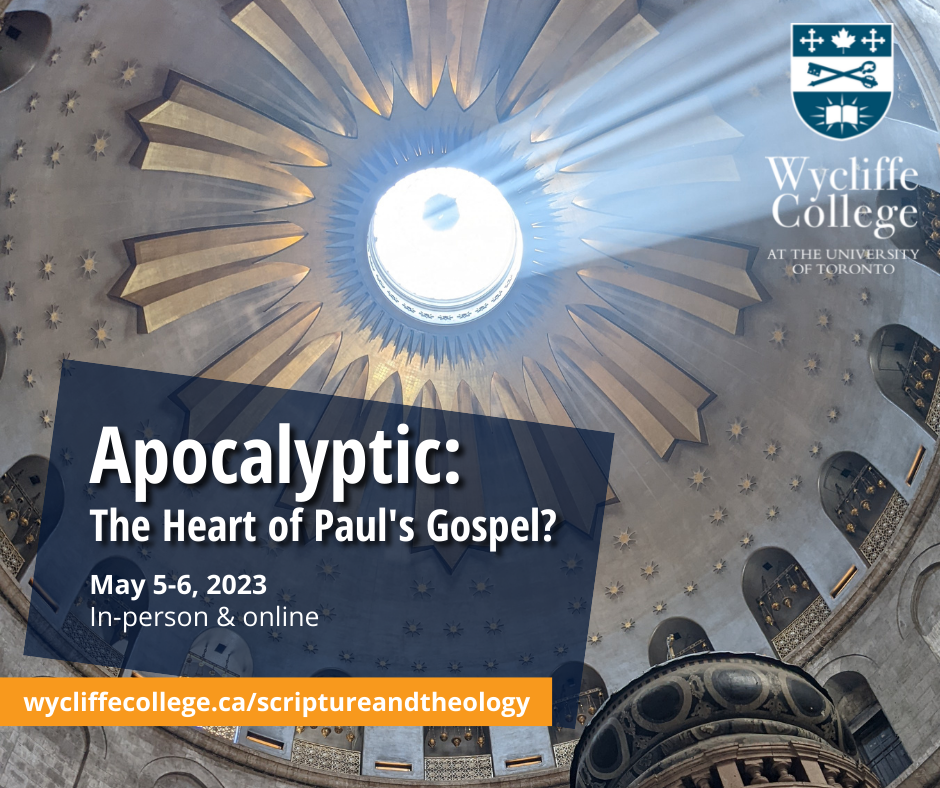 When
Friday, May 5, 2023 - 9:30am

to

Saturday, May 6, 2023 - 12:00pm
Where:
Wycliffe College, 5 Hoskin Avenue, Toronto
This is a two-day event, from Friday, May 5, 2023 (9:30 a.m. - 5: 00 p.m.) to Saturday, May 6, 2023 (9:30 a.m. - 12:00 p.m.)
In coming to understand the Apostle Paul's message, a movement has gathered strength over the last two decades, based on reading Romans 1:16, 'for in it [the gospel] the righteousness of God is revealed', where the Greek verb is ἀποκαλύπτεται. This suggests a sudden interruption of God into history rather than Christ's coming being the fulfilment or climax of history. 'A liberating invasion of the cosmos' was how J. Louis Martyn in his 2000 Anchor Bible commentary on Galatians called it, with a conscious indebtedness to Ernst Käsemann. Others (notably B. Gaventa, Martin de Boer, D. Campbell) have followed Martyn in emphasising the liberating power of the Pauline word or message, since in Galatians 1:16 (cf 2:2) the revelation of God's Son is revealed (ἀποκαλύψαι) in Paul himself. However some scholars (notably N.T. Wright and R.B. Hays) have resisted, insisting Paul believed that history was meaningful in God's purposes and that the Apostle envisaged a future historical outworking or fulfilment of the Gospel with Jesus Christ standing as fulcrum between the past (OT) and the future. To navigate these debates in the light of the texts and the theological stakes for the church's proclamation, we will be in the capable hands of Susan Eastman (Duke) , Douglas Farrow (McGill), Travis Kroeker (McMaster), Jamie Davies (Trinity, Bristol, UK) and Wycliffe's own Ann Jervis.
- Susan Eastman, "Jesus Christ, the Heart of Paul's Apocalyptic Gospel."
- Douglas Farrow, "The Mystery of Lawlessness and the Day of the Lord: Lessons from 1 &2 Thessalonians."
- Travis Kroeker, "Hastening the Awakening: Paul's Messianic Political Theology"
- Jamie Davies, "The Apocalyptic Paul"
- Ann Jervis, "Apocalypse of the Divine Jew in Paul".