Christian Foundations

New 3rd Edition Workbooks have arrived!
Do you have a basic grounding for a life of faith?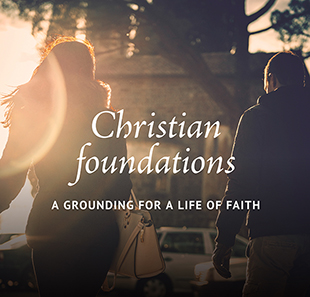 The Christian Foundations small group resource offers an engaging introduction to the good news of the Gospel, the story of the Bible, church history, the creeds, and core practices of the faith. The material has been designed for people with no Christian background, and for those wanting to refresh their basic grounding. Nine modules focus on key questions that are explored through four learning segments.  These include short narratives and interactive exercises including: self-quizzes, reflection questions, group discussion, story-telling, timelines, maps and matching tasks.
The module focus questions include:
What is the story of Israel?
Who is Jesus?
How did the Church get started?
What do all Christians believe?
Why are there so many sorts of Christians?
How can I grow in my faith?
What is my part in the kingdom of God?
Guiding the writing of Christian Foundations were the following goals:
that the primary focus be the Triune Living God made known in Jesus Christ
that Scripture shape the content and be pointed to for further reading and study
that interactive exercises would enable long-term learning in teens and adults
that transformation, rather than simply information, would be encouraged
 You may take a look at the sample workbook here. To buy the workbooks, please visit this link (there are volume discounts available if you are ordering 150 books or more.  Please contact our administrator for more details).
We have also made available a free small-group facilitator tip sheet, which you can download as a PDF here.