Indigenous Leadership Week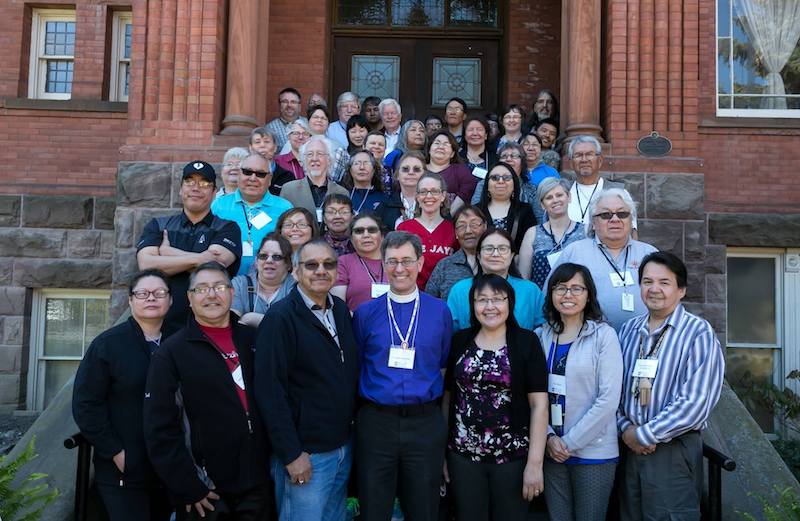 What is Indigenous Leadership Week?
Indigenous Leadership Week is a one-week, conference-style retreat program that combines continuing education with spiritual formation. The event gathers 40+ Indigenous leaders from across Canada and is held each spring in consultation with Canada's Indigenous bishops, in partnership with Wycliffe College. It is hosted by Wycliffe, on the downtown campus of the University of Toronto. Indigenous Leadership Week aims to equip, encourage, and empower Indigenous leaders as they perceive their unique gifting within both their home communities and the larger Church.
What happens at Indigenous Leadership Week?
Each year, the program changes to respond to current needs. Here are just some of the activities proposed for 2018:
Building friendships over an opening banquet and daily meals onsite
Daily morning worship, through Gospel-Based Discipleship
Daily Bible-focused teaching sessions with Indigenous & Wycliffe teachers
A Gospel Jamboree, sharing God's Word through song & healing prayer                         
Supper at a local church, engaging in conversation with their congregation
Visits to local Indigenous sites and/or a nearby reserve
Attending a Blue Jays game
Going sightseeing on the Saturday at the end of the program (optional)
A closing Eucharist & sharing circle
A closing banquet catered by an Indigenous restaurant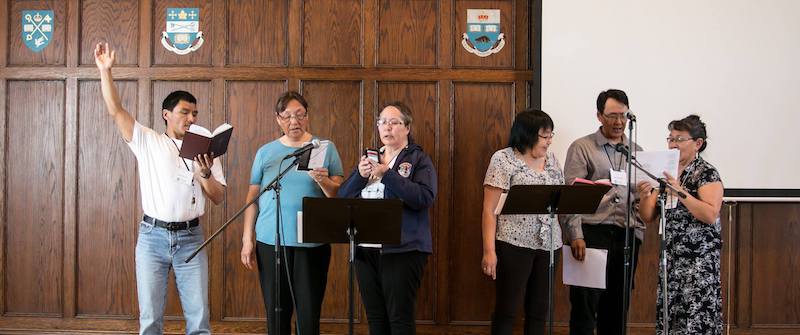 Who's the typical participant at Indigenous Leadership Week?
Participants come from a wide diversity of life situations and backgrounds. In 2017, participating leaders represented:
First Nations, Métis and Inuit cultures
Rural and urban areas
7 of 10 Canadian provinces, and 2 of 3 territories
On- and off-reserve communities
16 out of 30 Canadian dioceses
East, West, North and South – from Newfoundland to British Columbia, and from the Arctic to southern Ontario
Both women and men in leadership
Clergy and lay leaders
A variety of educational backgrounds
Many ages and stages of life, from young adults to great-grandparents
Who teaches at Indigenous Leadership Week?
Both Indigenous and non-Indigenous teachers provide interactive learning opportunities. Here is a sampling of this year's teachers:
Keynote speaker: Dr. Terry LeBlanc (Mi'kmaq-Acadian) – Terry is Executive Director of Indigenous Pathways, as well as founding Chair and current Director of the North American Institute for Indigenous Theological Studies (NAIITS). He teaches at universities throughout North America and is Indigenous Studies Program Director and Elder of the Bachelor of Education Program at Tyndale University College and Seminary.
The Rev. Ray Aldred - Director of the Indigenous Studies Program at Vancouver School of Theology
The Rt. Rev. Mark MacDonald – National Indigenous Anglican Bishop
The Rt. Rev. Lydia Mamakwa – Bishop of the Indigenous Spiritual Ministry of Mishamikoweesh
The Rt. Rev. Michael Hawkins – Bishop of the Diocese of Saskatchewan
Various Wycliffe faculty members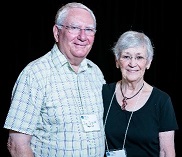 What does it cost to attend?
Indigenous Leadership Week is provided free of charge to all participants. Generous program patrons Jim & Edna Claydon cover the majority of program costs, including: travel to & from Toronto, accommodations and meals in transit and while in Toronto, class fees, field trips, and the optional sightseeing day. 
What is the program's impact?
What better way to find out, than to listen to Indigenous leaders themselves? They say:
"Transformative." – The Rt. Rev. Mark MacDonald, National Indigenous Anglican Bishop
"I was so happy to know I've been selected. I…have happy tears." – Greta, Gwich'in, Arctic
"This program has inspired and motivated me to get into the priesthood." – Allen (Standsinwater), Cree, Moosonee
"I just want to thank you for thinking to help other Indigenous people out for learning from each other." – Aigah, Inuit, Ottawa
"It's a chance of a lifetime in getting to experience the wider communion of the Anglican church and resources it has to offer." – Cameron, Cree, Brandon
"The whole experience was really good for me personally…It also inspired me to work at Cursillo." – RJ, Blackfoot, Calgary
"My circle of brothers & sisters in Christ has grown immensely." – Norm, Cree, Moosonee
"The Indigenous Leadership Week gave me valuable insight into the various native ministries throughout Canada." – Vivian, Cree/Chipewyan, New Westminster
How do I apply to attend Indigenous Leadership Week?
Indigenous Leadership Week is coming right up: May 20-26, 2018.
If you are an Indigenous church leader or potential leader (clergy or lay), you are invited to apply. Please let your bishop know of your interest. For more information, please contact: 
The Rev. Julie Golding Page, Director of Indigenous Training Programs, Wycliffe College
Email: Julie Golding Page
Phone: (647) 233-4210 (cell)
Application Deadline: Friday, February 16, 2018