Preaching Day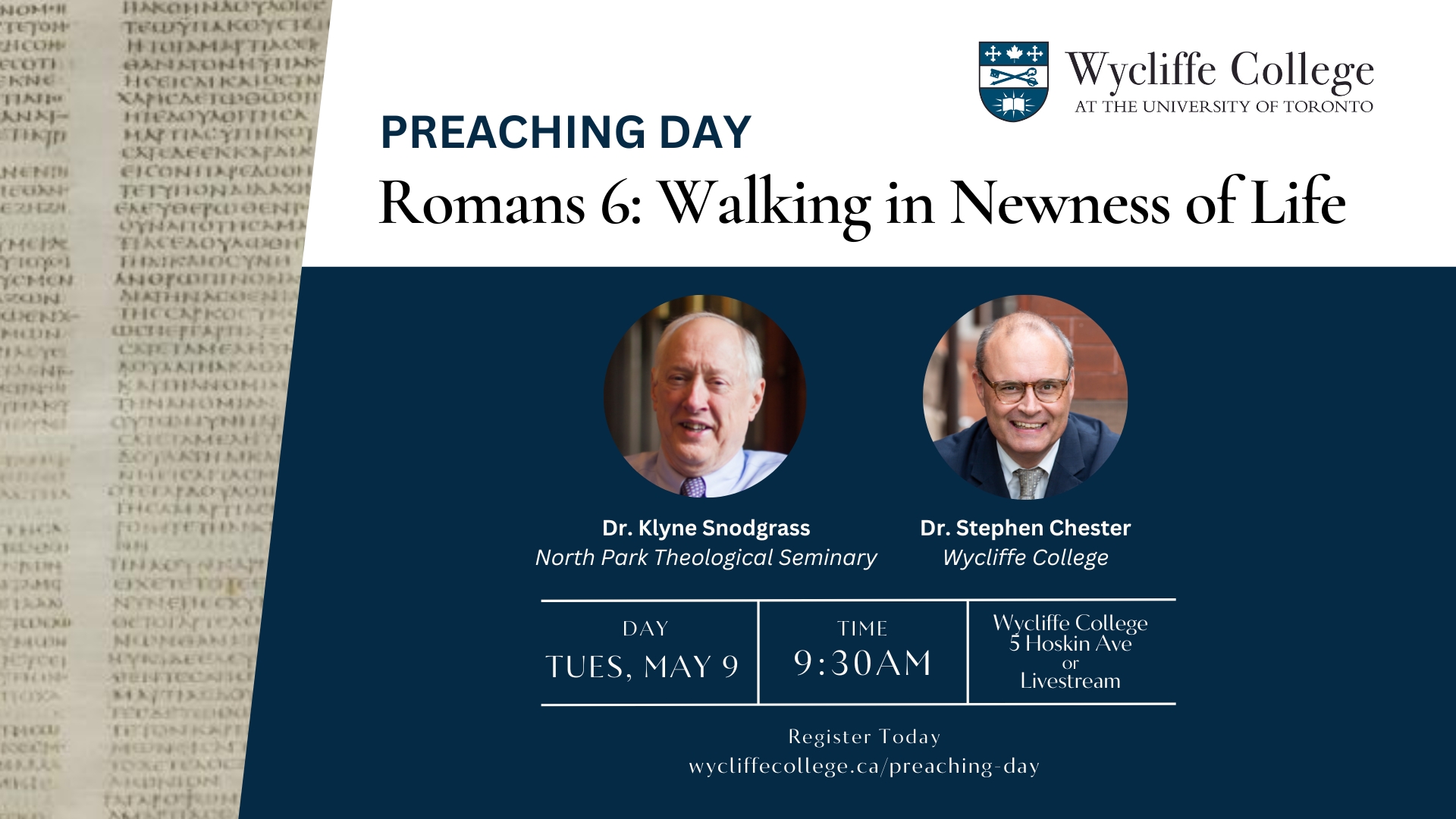 Romans 6: Walking in Newness of Life
Date & time: Tuesday May 9, 9:30 a.m. (Registration starts at 9:00 a.m.)
Location:Wycliffe College, 5 Hoskin Ave, Toronto
Speakers: Klyne Snodgrass, Stephen Chester
Register at: https://www.eventbrite.ca/e/wycliffe-preaching-day-preaching-on-romans-tickets-531139341067
Wycliffe College is pleased to welcome Professor Klyne Snodgrass who with Professor Stephen Chester will be leading us in Preaching Day 2023.  Professor Snodgrass, who taught for 41 years at North Park Theological Seminary and has served in several interim pastorates will be joining Professor Stephen Chester who is also a professor and preacher as they lead us in an engagement with Romans 6. Romans 6 takes us into the paradoxical heart of the good news of God in Jesus Christ: newness of life results from dying with Christ in baptism, and freedom from sin is expressed in slavery to righteousness. It is a vital passage both for the preacher and for the community as we seek to live into our new life in Christ. Professors Snodgrass and Chester will bring their skill as scholars and their passion for communicating the gospel to this one-day event on Tuesday May 9, 2023.
ABOUT
Professor Klyne Snodgrass is Emeritus Professor of New Testament at North Park Theological Seminary where he taught for forty-one years. His most important publications are Ephesians in The NIV Application Commentary, Stories with Intent: A Comprehensive Guide to the Parables of Jesus, and Who God Says You Are: A Christian Understanding of Identity. For twenty-five years he was editor of Ex Auditu: An International Journal for the Theological Interpretation of Scripture.
Professor Stephen Chester is Professor of New Testament at Wycliffe College, University of Toronto. He was previously a member of faculty at North Park Theological Seminary, Chicago (2006-2019) and International Christian College, Glasgow (1999-2006).