Principal's Dinner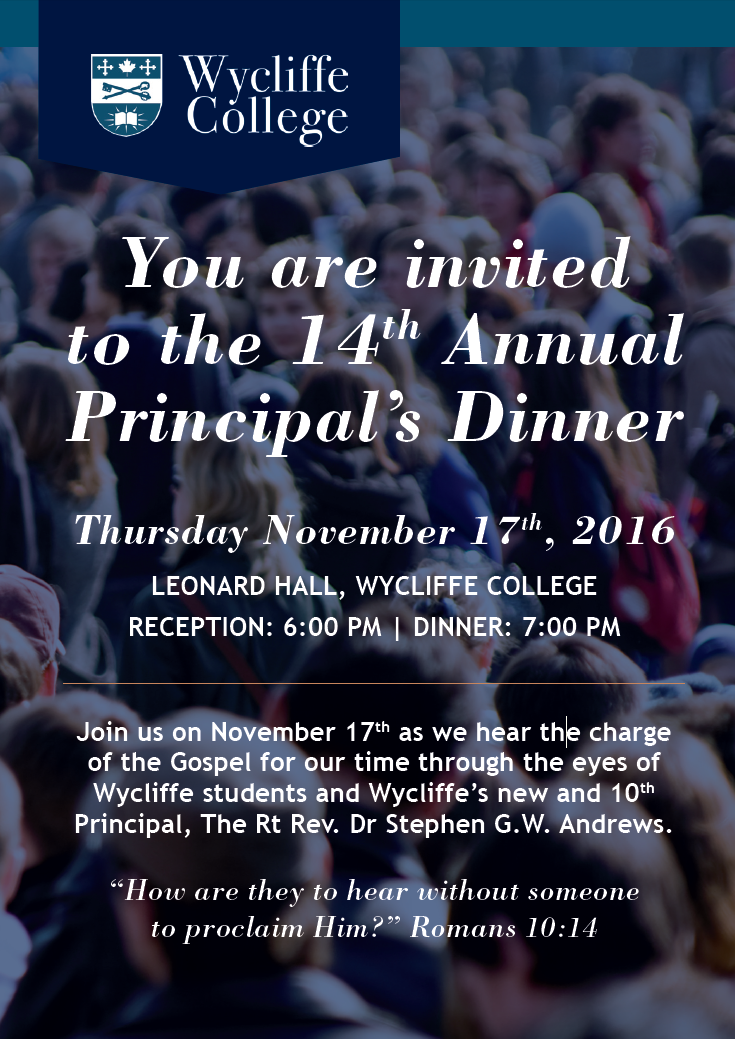 Where:
Wycliffe College, 5 Hoskin Avenue, Toronto, Ontario
Nov 14th: Please note that online registration is now closed. If you're still interested in purchasing tickets, please contact Katie Clogg at 416-946-3535 ext. 3524
You are invited to the 14th Annual Principal's Dinner
Thursday November 17th, 2016
LEONARD HALL, WYCLIFFE COLLEGE
RECEPTION: 6:00 PM | DINNER: 7:00 PM
Join us on November 17th as we hear the charge of the Gospel for our time through the eyes of Wycliffe students and Wycliffe's new and 10th Principal, The Rt Rev. Dr Stephen G.W. Andrews.
Cost: $185 per person | Table of eight: $1,450
A tax receipt will be issued for the maximum allowable amount.
Please R.S.V.P by November 7th, 2016 by:
 - Phone: 416.946.3535 ext. 3524

"And how are they to proclaim Him unless they are sent?" Rom 10:15
There is a seismic shift underway in our perspective on the world. The culture has left behind its moorings in the tenets of the Christian faith, and young people are looking for meaning everywhere but in institutional forms of religion.
But not all young people. Many bright, articulate and engaged Millennial-aged students come to Wycliffe College because they know that life is to be found in the word of Christ, and because they have a passion to understand and share his life with others.
The theme of our evening will be taken from Romans 10:14-17: "14 How, then, can they call on the one they have not believed in? And how can they believe in the one of whom they have not heard? And how can they hear without someone preaching to them? 15 And how can anyone preach unless they are sent? As it is written: 'How beautiful are the feet of those who bring good news!'"
Join us for dinner and a conversation with Wycliffe students as they talk about what it means to be a faithful disciple of Jesus Christ in an age of instant communication, shifting opinion, and consequential restlessness.
I look forward to meeting you.
The Rt Rev. Dr Stephen G.W. Andrews
Principal, Wycliffe College