Principal's Dinner 2022
When
Thursday, October 13, 2022 -

6:00pm

to

9:30pm
Where:
Wycliffe College, 5 Hoskin Ave, Toronto
Email: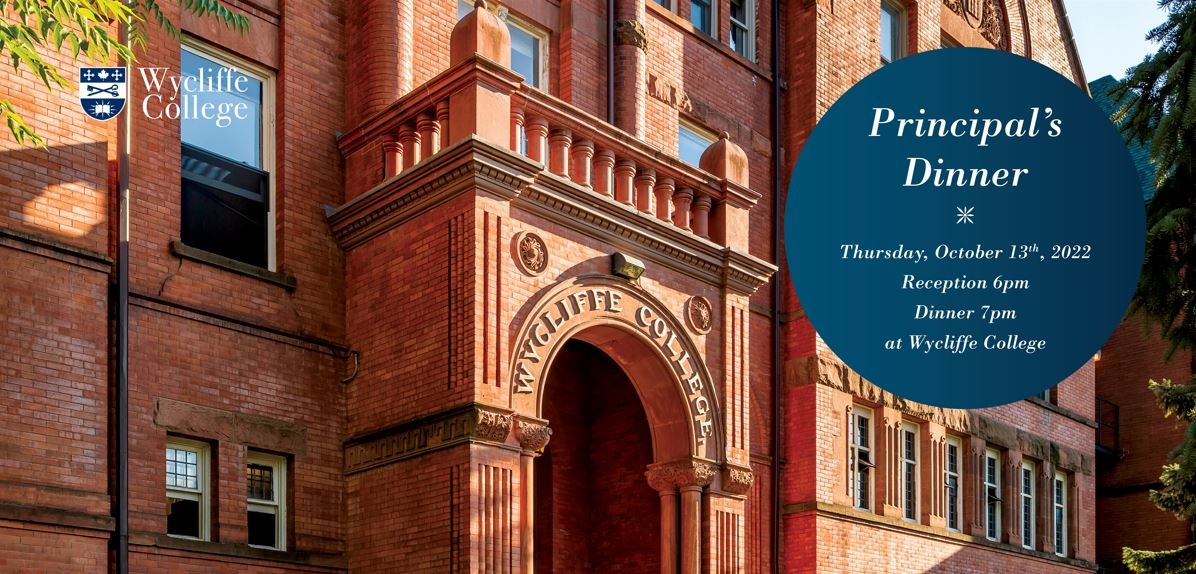 Join us for the Principal's Dinner with our Guest Speaker Dr Alan Fung. 
Theme: Invisible Brokenness: Understanding Mental Health as Christians

With: Dr Alan Fung
Costs: Single Ticket: $205, Table of Eight: $1,600 
A tax receipt will be issued for the maximum allowable amount.
| | |
| --- | --- |
| A note from the Principal: Many would say that we are in the midst of a mental health crisis in Canada. A newly released report profiling mental health during the COVID-19 pandemic by Statistics Canada shows a marked increase in suicidal ideation, anxiety, depression, and psychological distress among Canadian adults. How ought people of faith to respond to this crisis? And how can we cope when mental illness afflicts us and those we love? I hope you will join me for a timely and illuminating evening where we can think about these questions under the guidance of noted Christian psychiatrist, Alan Fung. Dr Fung not only holds degrees from Cambridge (MPhil), the University of Toronto (BSc, MD), and Harvard (SM and ScD), he also has a Certificate in Theology and Ministry from Princeton. He is much in demand as a speaker to clinical and Christian audiences and we look forward to hearing from him. - The Rt Rev. Dr Stephen Andrews, Principal  | |
Dr Alan Fung, Professorial Fellow of Wycliffe College

Alan Fung is a physician board-certified in the specialties of psychiatry, sleep medicine, and behavioral neurology & neuropsychiatry. He has strong clinical and academic interests in the cultural and spiritual/religious dimensions of mental health care – especially the interface between spirituality/religion and mental health and illness, as well as partnerships between mental health and faith communities in promoting mental health.

Licensed to practice medicine 17 years ago, Dr Alan Fung is a Member of the Global Mental Health Advisory Group at the University of Toronto Department of Psychiatry, where he also teaches, and is Medical Director of the Mount Sinai Hospital Wellness Centre. This past year he was given the American Psychiatric Association's Foundation Award for Advancing Minority Mental Health. He is also Chair of the World Psychiatric Association's Section on Religion, Spirituality and Psychiatry. This year he will be teaching a course for pastoral studies students at Wycliffe entitled, 'Understanding Mental Health and Mental Illness as Faith Leaders'.