Women's Breakfast with Marion Taylor (Sold Out)
Where:
Wycliffe College, 5 Hoskin Avenue, Toronto
Email: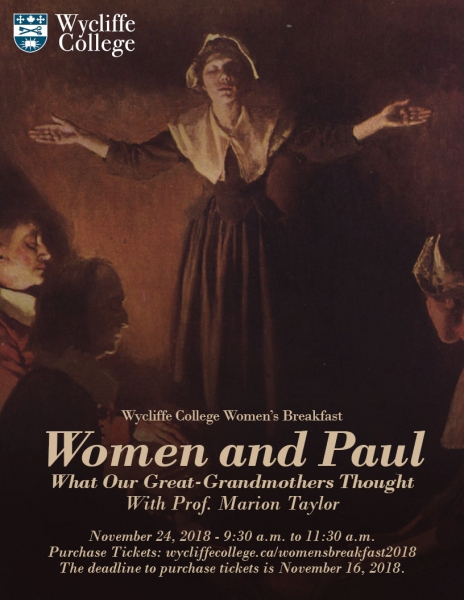 Women and Paul: What Our Great-Grandmothers Thought
With Prof. Marion Taylor 
Join us on November 24th for the Wycliffe College Women's Breakfast. Prof. Marion Taylor will guide us through the struggle that women of the 19th Century with a call to preach encountered as they wrestled with Paul's letters.
In addition, you will meet women currently studying at Wycliffe and hear more about their personal stories of calling as well as their journey of spiritual formation.
There is a small fee of $10 to cover the costs of this event, and tax receipts will be issued for any donations made toward women's bursaries at Wycliffe College.
Tickets to the Women's Breakfast are limited, please email events@wycliffe.utoronto.ca if the tickets are sold out and you will be placed on a waitlist. You will be contacted if tickets become available. 
Marion Taylor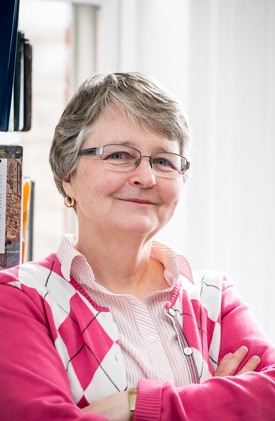 Professor Marion Taylor, Professor of Old Testament is a graduate of Yale University, and has taught at Wycliffe College since 1986.In 2012, she published the award winning Handbook of Women Biblical Interpreters: A Historical and Biographical Guide. Marion has recently completed a commentary on Ruth and Esther, to be published in Zondervan's Story of God Series:
Recent Publications
Christiana DeGroot and Marion Ann Taylor, Women of War Women of Woe: Joshua and Judges through the Eyes of Nineteenth-Century Female Biblical Interpreters (Grand Rapids: Eerdmans, 2016)
Marion Ann Taylor and Heather E. Weir, Women in the Story of Jesus: The Gospels through the Eyes of Nineteenth-Century Female Biblical Interpreters (Grand Rapids: Eerdmans, 2016)