Principal's Dinner 2023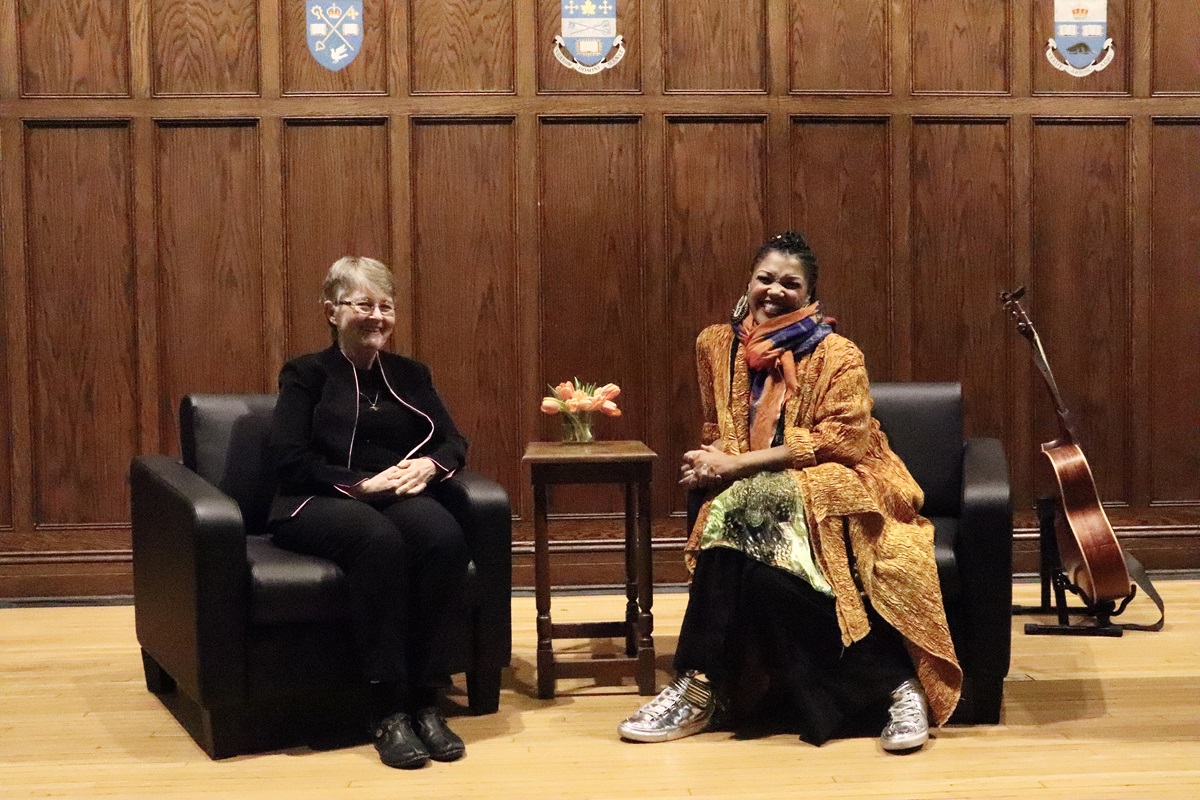 Each year, the Principal's Dinner brings together friends of the College for a special evening of fellowship, learning, and inspiration. On October 19, 2023, Principal Bishop Stephen Andrews welcomed 140 guests who came to enjoy God's creativity through art, story, and music.
Although varied in medium and presence, three primary focal points of the evening shared a common message of challenge and resilience. These individuals' personal trials had led them to align their lives with God's divine will.
The evening commenced with a cocktail reception in the Great Hall where guests mingled amongst etchings and lithographs by legendary artist March Chagall (1887-1985), a Russian Jew who survived the atrocities of World War II. This collection had been on loan to the College since May. Chagall believed that true art should harmonize with God's creations, and he once stated, "The bible is an echo of nature and this secret I have tried to transmit".
As guests settled in for dinner, Senior Student Matthew Lee shared his intimate and inspiring journey of Faith and perseverance in the face of potential imprisonment in his native Korea. Matthew's gift of storytelling led guests through his decision to leave mandatory military service to his eventual arrival at Wycliffe. His words expressed the essence of the Wycliffe community:
"I have never met such a diversity of Christians before in a single place. This has sometimes made me wonder what even coherently binds us all together, but the answer has always been simple and swift: we are bound together in Christ".
Following a delicious dinner, guests were treated to a captivating performance by renowned Canadian Soprano, Measha Brueggergosman-Lee.  Accompanied by her husband, guitarist Stephen Lee and award-winning bassist George Koller, Measha began her performance with an acapella rendition of If There is Music There is a God.  She followed with Take Me to the Water, and There Is a Balm in Gilead.
After the soul-stirring songs, Measha engaged in heartfelt conversation with Dr Marion Taylor, Professor of Old Testament, and an authority on women interpreters of the Bible, as well as a fan of Measha's. Their colourful conversation revolved around themes of healing, God's forgiveness, and how Measha remains grounded in her Faith as a successful entertainer.
After reading a verse of Scripture, Measha shared her perspective, an excerpt of which captures her heart's desire;
"… Especially in an industry when people want to be or define success in such a way that has no eye to eternity… you start singing to the glory of God which transcends this earthly place so that it's not me singing but I pray it is the Holy Spirit standing tall inside of me…being used by God is just the only way I want to live my life."          
The 2023 Principal's Dinner was a memorable and spiritually uplifting evening. It reminded us how art, storytelling, and music can convey profound messages of faith, resilience, and unwavering commitment to God's divine plan within us.