History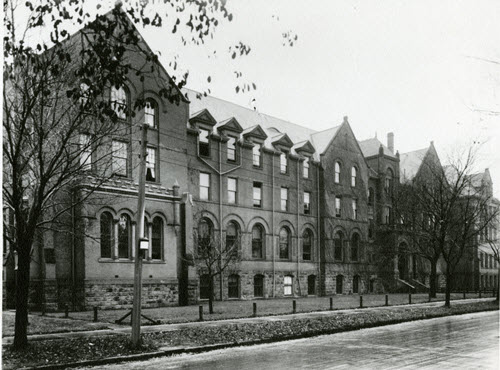 Wycliffe College was founded in 1877 by a local Anglican evangelical organization called the Church Association of the Diocese of Toronto. This group, primarily a lay movement centred at St. James' Cathedral, had been formed in 1873 after a clerical faction in the diocesan synod had campaigned to exclude evangelicals from important diocesan offices and committees. The Association championed the doctrinal points of the English Reformation, and, applying these principles to its immediate context, maintained the rights of the laity in Church governance, simplicity in worship, and ecumenical relations with other Protestant denominations, especially in postsecondary education. It held meetings, published tracts, established a weekly newspaper, involved itself in Church politics, and gave financial support to evangelical clergy and students. Its most lasting contribution was the Protestant Episcopal Divinity School, which first met in the schoolhouse of St. James' Cathedral. Nine adventurous students met under the leadership of the Reverend James Paterson Sheraton, a parish priest from the Canadian Maritimes who had just been appointed the College's principal and first professor.
The school grew rapidly and in 1881 moved into its own building on a site in the area of the University of Toronto. This year was the five hundredth anniversary of the traditional date of the first English Bible, which had been inspired by the teaching of the Oxford priest and professor John Wycliffe. It therefore seemed fitting to name the building 'Wycliffe College', and the name was soon extended to denote the school itself. In 1885 the College was affiliated to the University, and in 1889 it became one of the federated colleges. In 1891 the College moved to its present site on Hoskin Avenue, and was formally approved by the Church as an Anglican theological college.
Wycliffe was incorporated in 1879 for the purpose of 'providing for the training of theological students in accordance with the principles of the Reformation as embodied in the Articles of the Church of England.' The College is managed according to the Wycliffe College Act of the provincial legislature, 1916, amended in 1932, 1949, and 1952.