Wycliffe Centre for Scripture and Theology: Colloquium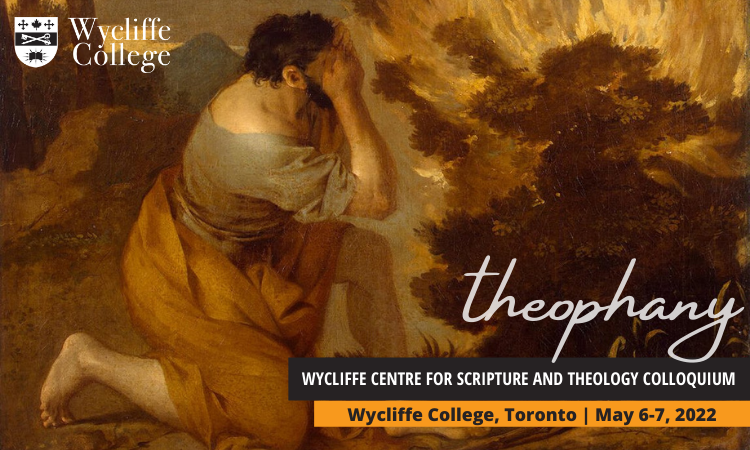 The Scripture and Theology Colloquium is a semi-annual gathering of faculty, pastors, students, and others who are interested in exploring the dynamic interactions of scripture and theology. Featuring a selection of world-class experts, the colloquia will alternate in focus, sometimes addressing larger theological topics and other times considering a specific book or chapter of the Bible.
_______________________________________
Our upcoming spring colloqium will address the topic of Theophany: God's appearing and self-revealing in the Bible and to the church (May 6-7, 2022), featuring presentations by:
Kate Sonderegger, Virginia Theological Seminary

Stephen Chapman, Duke Divinity School

Brent Strawn, Duke Divinity School

Justin Stratis, Wycliffe College, Toronto
Interested faculty or students from any institution are encouraged to submit relevant work to our:
Call for Papers
 Call for Papers
Wycliffe College Scripture and Theology Colloquium
Toronto, Ontario
May 6-7, 2022
Theophany: God's appearing and self-revealing in the Bible and to the church
Wycliffe College invites submissions from undergraduate students, graduate students, and faculty on the topic of theophany. We are particularly interested in papers that bridge the worlds of Scripture and theology, drawing upon the methodology and insights of both biblical studies and theological studies.
Proposals should be 500 words or less and detail the main thesis, approach, and authors/texts to be engaged. Presentations will be 10-15 minutes in length.
The colloquium will be offered in a hybrid format (in person and online), COVID-19 policy permitting.
Submit proposals to Wycliffe.ST@utoronto.ca by Friday, February 11, 2022.
Selected presenters will be notified by March 1, 2022.
---
Wycliffe College is a vital institution of Christian teaching and learning, engaging scholars, seminarians, masters, and doctoral students across the theological disciplines. Among its special commitments is the intellectual renewal of Scriptural and Theological study as a mutually informing discipline in the service of the Christian Church. The Wycliffe Centre for Scripture and Theology serves this purpose by:
Offering regular for-credit seminars on the theological study of Scripture, which will include exegesis, hermeneutics, history of interpretation, and Scriptural theology.
Organizing regular colloquia at Wycliffe – one per semester – that will bring more established and younger scholars together with faculty and Advanced Degree students for discussion of current work being done in these areas.
Foster an atmosphere among interested faculty and students at Wycliffe and the Toronto School of Theology that strengthens scholarly collegiality and mission.