Wycliffe Centre for Scripture and Theology: Colloquium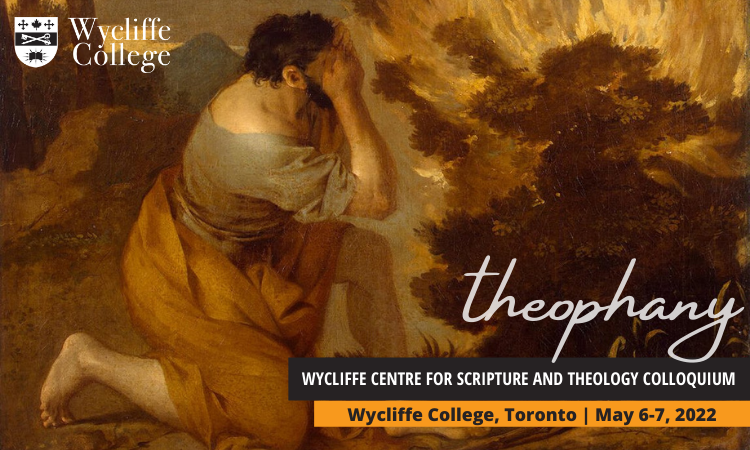 The Scripture and Theology Colloquium is a semi-annual gathering of faculty, pastors, students, and others who are interested in exploring the dynamic interactions of scripture and theology. Featuring a selection of world-class experts, the colloquia will alternate in focus, sometimes addressing larger theological topics and other times considering a specific book or chapter of the Bible.
_______________________________________
Our upcoming spring colloqium will address the topic of Theophany: God's appearing and self-revealing in the Bible and to the church (May 6-7, 2022).  
Friday will feature presentations by the following established scholars:
Kate Sonderegger, Virginia Theological Seminary

Stephen Chapman, Duke Divinity School

Brent Strawn, Duke Divinity School

Justin Stratis, Wycliffe College, Toronto
On Saturday, we are excited to hear from rising young scholars, including the winners of our 2022 Scripture and Theology essay competition.
Hybrid: Online or In-Person
 Schedule
Friday, May 6th

10:00am

Stephen Chapman, Duke Divinity School
"Reflected Glory: The Imposition of the Divine Name as Theophany"

11:00am

Kate Sonderegger, Virginia Theological Seminary
"Holy Scripture as Theophany"

12:00pm

Lunch

12:45pm

Justin Stratis, Wycliffe College
"Theophany and Revelation"

1:45pm

Brent Strawn, Duke Divinity School
"Theophany: Close Encounters of the Textual Kind"

2:45pm

Break

3:15pm

Panel Discussion

Saturday, May 7th

10:00am

Jude Akachukwu (Dominican Institute Ibadan)
"Theophany as Christophany: Biblico-theological Unity as Core Implication of Early Christian Theology of Scriptural Theophany and its Implication for Modern Biblical Studies"

 

Aleah Gathings (Princeton Theological Seminary)
"Fire and Rainbows: Theophanies and the Use of Motifs to Reimagine Scripture, Reconstruct Theology, and Engage in the Work of Proclaiming the Good News with an Awareness of Future, Divine Judgement"

 

Caitlin Hubler (Emory University)
"'Prevailing Against God' or 'Becoming Like God'?: Genesis 32:23-33 as Jacob's Divinization in Light of Ancient Near Eastern Ontology"

 

Noelle Johnson (Notre Dame)
"Face of God and the Word: Patristic Reception of God's Fluidity"

11:15am

Break

11:30am

Justin Lam (Wycliffe College)
"1 Peter's Temple Ecclesiology: How the Presence of Ezekiel's God Dwells in the Church for the Sake of the Nations"

 

Hayden Lukas (Concordia Seminary)
"The Theophanic World of Genesis: A Neoplatonic Framework for Reconciling Genesis and the Doctrine 'Creation Ex Nihilo'"

 

Matthew Wiley (Trinity Evangelical Divinity School)
"Burning Yet Not Consuming: Exodus 3 and Sonderegger's Theological Compatibilism"
---
Wycliffe College is a vital institution of Christian teaching and learning, engaging scholars, seminarians, masters, and doctoral students across the theological disciplines. Among its special commitments is the intellectual renewal of Scriptural and Theological study as a mutually informing discipline in the service of the Christian Church. The Wycliffe Centre for Scripture and Theology serves this purpose by:
Offering regular for-credit seminars on the theological study of Scripture, which will include exegesis, hermeneutics, history of interpretation, and Scriptural theology.
Organizing regular colloquia at Wycliffe – one per semester – that will bring more established and younger scholars together with faculty and Advanced Degree students for discussion of current work being done in these areas.
Foster an atmosphere among interested faculty and students at Wycliffe and the Toronto School of Theology that strengthens scholarly collegiality and mission.