Wycliffe Centre for Scripture and Theology: Colloquium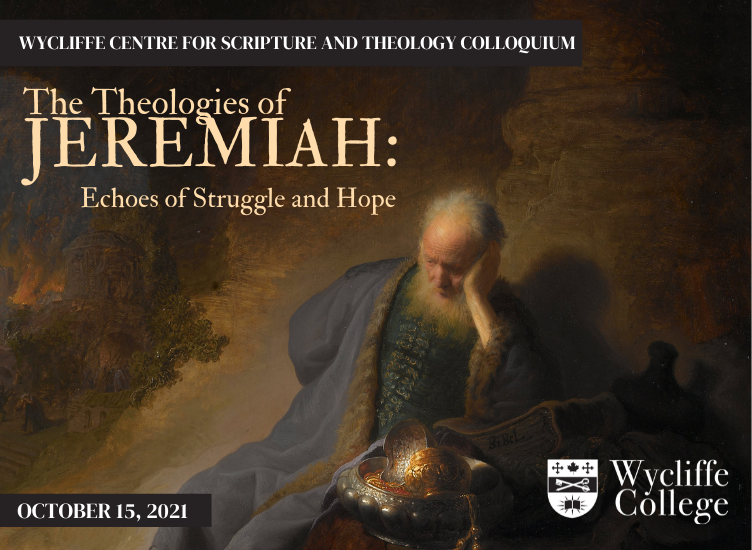 The Scripture and Theology Colloquium is a semi-annual gathering of faculty, pastors, students and others who are interested in exploring the dynamic interactions of scripture and theology. With a panel of world-class experts, the colloquium will alternate between larger theological topics and at other times the colloquium will endeavour to take up a book or chapter of the Bible as the theme.
This year's event will be virtual, with the possibility of having an in-person option. We will update this webpage once it's determined.
---
The Theologies of Jeremiah:
Echoes of Struggle and Hope
October 15, 2021   10:00 AM-4:00 PM
REGISTER HERE.
This is a hybrid event. Attend remotely on Zoom (link available in registration confirmation email) or in person (limited seating available)
---
Presentations:
Mary Callaway -- Reading Between the Lines: What Reception History Contributes to Jeremiah Studies
Three aspects of the complex Jeremiah tradition have persisted since the beginning: stories about the prophet, prophetic words and the prophetic persona. All continued to develop and take on new meanings in changing cultural circumstances. The Jeremiah that we read is inevitably a combination of historical-critical work and of Wirkungsgeschichte, the effects of history on our own intellect and consciousness. There is no one true Jeremiah; rather, the prophet is a slipping figure who has taken on different identities over the centuries, and who remains somewhat elusive.
---
Lissa Wray Beal -- The End of the World as We Know It: Memory, Trauma, and Prophetic Hope in Jeremiah
The book of Jeremiah records the terrifying last days of the kingdom of Judah, and its exile to Babylon. The difficulty of the prophet's role, and the trauma of those who lived through exile make the book an anguishing read. Reflecting on memory within the book—both its failure and reclamation—and utilizing the work of trauma studies enables new insights into the motivation and effects of the prophetic work and its ability to speak into our own time. The embodied ministry of the prophet and his mediatorial role opens Christological understandings beyond the book's historical context. Exploring these aspects of the book of Jeremiah, this paper considers the book's message of both pain and enduring hope for today's world.
Michael Graves -- Interpreting Disaster and Culpability in the Book of Jeremiah
The book of Jeremiah announces a terrible disaster that befalls Judah in the form of the Babylonian army. According to Jeremiah, this disaster strikes Judah as punishment for rejecting God and disobeying his commands. Some readers have questioned whether Judah's sins warrant the specific destruction that the book describes. This paper presents an interpretation of the book of Jeremiah within the context of the Christian Bible that acknowledges the substance of the question and attempts to incorporate both disaster and culpability within a coherent theological framework.   
Mark W. Elliott -- Jeremiah: Truth and Sense in the Book's Interpretation

Depending on what role is emphasized, Jeremiah may be portrayed as a prophet of doom (Jer 4-6), a lamenting prophet (Jer 10-20), a prophet of salvation (cf. Jer 30-31), a preacher of repentance (Jer 26), or a teacher of Torah (cf. Christl Meier). One might argue that different times require different roles of Jeremiah, according to our 'sense' of him.
However for some (Walter Brueggemann, The Theology of Jeremiah) it is not just the book nor even the prophet, but in fact God himself who is multi-faceted. Brueggemann bolsters his judgements with appeal to modern Jewish interpreters and thinkers. His approach has been convincingly critiqued.

The course of the book of Jeremiah at first sight feels too messy and full of interruptions, deviations and repetitions to be easily interpreted as a whole. Yet certain truths are emphasised in and through the text, points which go beyond the issue of 'Jeremiah, his experience and his narrative', namely: the nature of self-deception in a crisis; the place for certainty in conflict; the necessary relationship of radical grace and realism.
Presenters:
Mary Callaway: Professor of Theology, Fordham University

Mary Chilton Callaway joined the Theology Department in 1980 to teach the languages, literature and history of the Hebrew Bible. Among graduate seminars she has taught are Literary Criticism and the Bible, Second Temple Midrash, and History of Interpretation. In Fordham College she has taught Ancient Literature in the Honors Program for many years, reading the Bible in the context of other literature of the Mediterranean world. She has served twice as department chair.

Callaway is an active member of the Columbia University Hebrew Bible Seminar. She served two terms on the General Board of Examining Chaplains of the Episcopal Church, and was on the international design team to create the Bible studies for Lambeth Conference.

 

---

Lissa Wray Beal: Professor of Old Testament, Providence Theological Seminary


The Rev. Dr. Lissa M. Wray Beal is originally from the Vancouver area but her ministry and studies have taken her to the Northwest Territories, Edmonton, Toronto, and now Winnipeg. She pastored in Edmonton before earning her PhD in 2004 from the University of St. Michael's College at the Toronto School of Theology. During her studies she taught as an adjunct professor at Tyndale Seminary and other schools, and in 2004 joined the faculty of Providence Theological Seminary near Winnipeg. She serves as the Professor of Old Testament and chair of the Bible and Theology Department at the seminary, and as an ordained priest in the Anglican Church of Canada.

 

---

Michael Graves: Professor of Biblical Studies, Wheaton Colege

Michael Graves (PhD, Hebrew Union College) is Armerding Professor of Biblical Studies at Wheaton College, Wheaton, IL. His books include How Scripture Interprets Scripture: What Biblical Writers Can Teach Us About Reading the Bible (2021); The Inspiration and Interpretation of Scripture (2014), and an annotated translation of Jerome's Commentary on Jeremiah (2012). His essays on early Christian and Jewish biblical interpretation have appeared in journals such as Vigiliae Christianae, Ephemerides Theologicae Lovanienses, Comparative Islamic Studies, Tyndale Bulletin, and the Journal of Ecumenical Studies. 

 

---

Mark Elliott: Professor Fellow, Wycliffe College


Mark W Elliott was schooled in Glasgow. For university he went to read Law at Oxford, then he studied Divinity at Aberdeen and gained his PhD in Patristics at Cambridge University. He then taught at the universities of Nottingham, Liverpool Hope and St Andrews (from 2003-18) and is now employed at Glasgow University where he is Professor of Divinity and Biblical Criticism.  His two forthcoming projects are History of Scottish Theology (co-edited with David Fergusson, published by Oxford University Press, 2019) and Providence: Biblical and Theological with Baker (2020). He is co-chair of the History of Interpretation Section at the Annual Meeting of the Society for Biblical Literature and editor of the Mohr Siebeck Series, History of Biblical Exegesis.
---
---
Wycliffe College is a vital institution of Christian teaching and learning, engaging scholars, seminarians, masters, and doctoral students across the theological disciplines. Among its special commitments is the intellectual renewal of Scriptural and Theological study as a mutually informing discipline in the service of the Christian Church. The Wycliffe Centre for Scripture and Theology serves this purpose by:
Offering regular for-credit seminars on the theological study of Scripture, which will include exegesis, hermeneutics, history of interpretation, and Scriptural theology.
Organizing regular colloquia at Wycliffe – one per semester – that will bring more established and younger scholars together with faculty and Advanced Degree students for discussion of current work being done in these areas.
Foster an atmosphere among interested faculty and students at Wycliffe and the Toronto School of Theology that strengthens scholarly collegiality and mission.