Wycliffe Centre for Scripture and Theology: Colloquium
The Scripture and Theology Colloquium is a semi-annual gathering of faculty, pastors, students, and others who are interested in exploring the dynamic interactions of scripture and theology. Featuring a selection of world-class experts, the colloquia will alternate in focus, sometimes addressing larger theological topics and other times considering a specific book or chapter of the Bible.  View recordings of past colloquia here.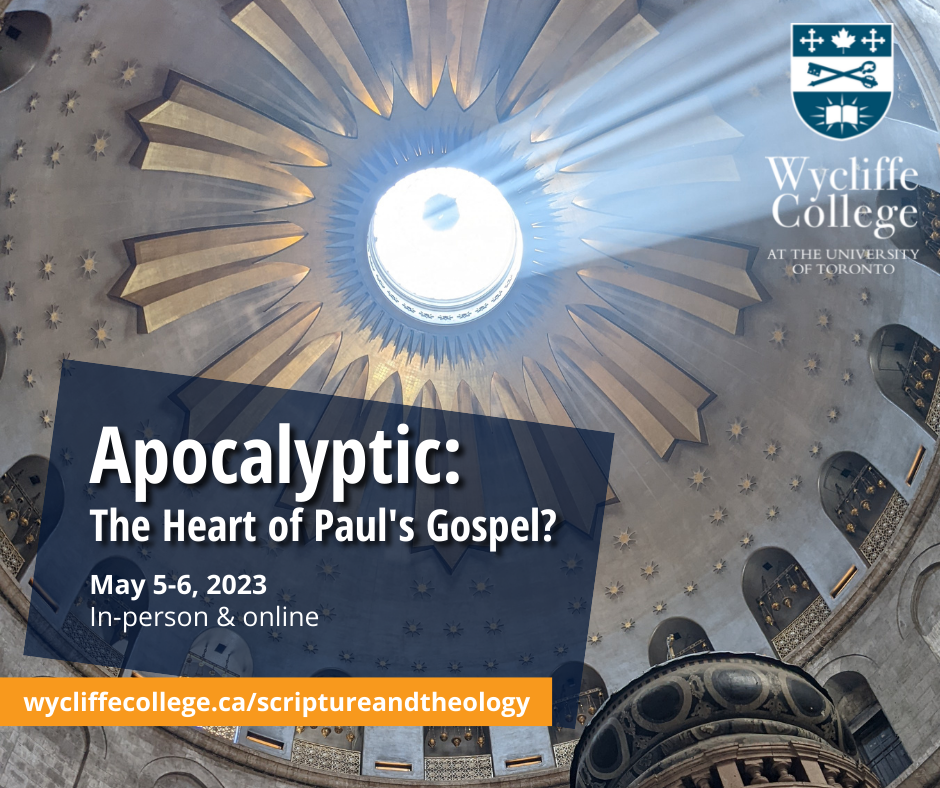 Save the Date!
Spring Colloquium: Apocalyptic: The Heart of Paul's Gospel?
Friday, May 5th and Saturday, May 6th
Wycliffe College, 5 Hoskin Avenue, Toronto
Enter our Call for Papers: Details / Submit paper
Enter the affiliated essay competition (TBA).
---
Wycliffe College is a vital institution of Christian teaching and learning, engaging scholars, seminarians, masters, and doctoral students across the theological disciplines. Among its special commitments is the intellectual renewal of Scriptural and Theological study as a mutually informing discipline in the service of the Christian Church. The Wycliffe Centre for Scripture and Theology serves this purpose by:
Offering regular for-credit seminars on the theological study of Scripture, which will include exegesis, hermeneutics, history of interpretation, and Scriptural theology.
Organizing regular colloquia at Wycliffe – one per semester – that will bring more established and younger scholars together with faculty and Advanced Degree students for discussion of current work being done in these areas.
Foster an atmosphere among interested faculty and students at Wycliffe and the Toronto School of Theology that strengthens scholarly collegiality and mission.