Alumni Spotlight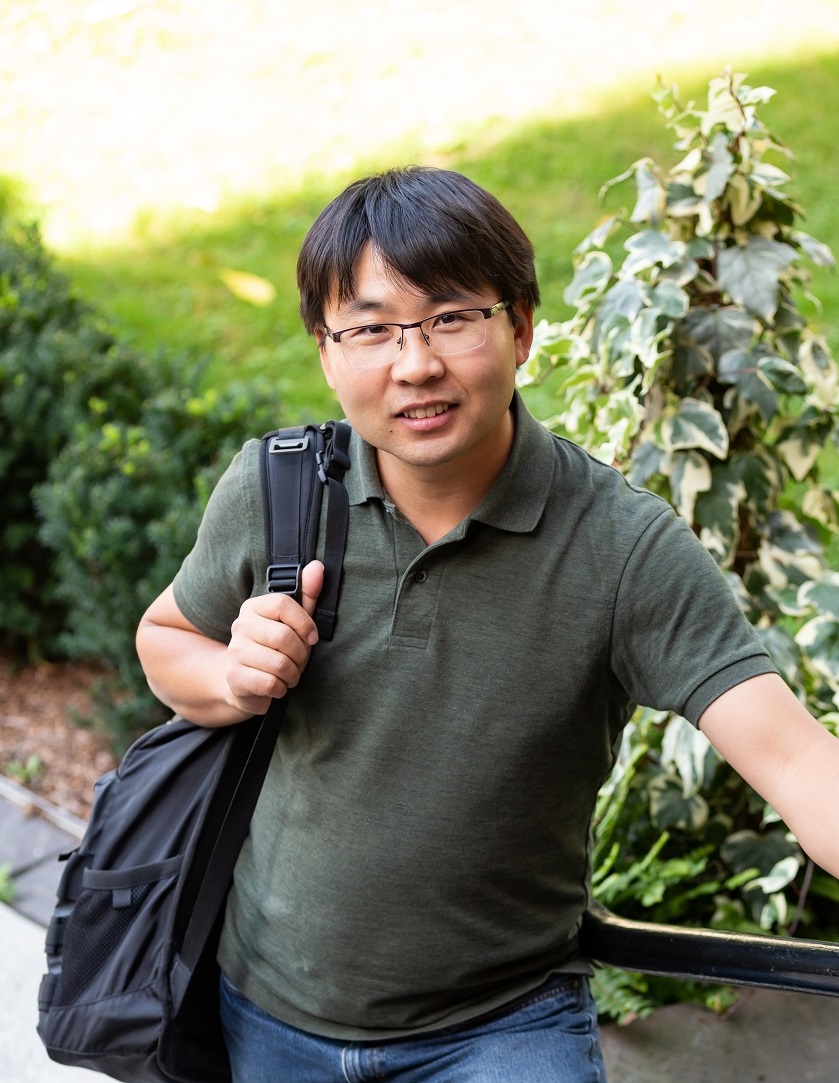 Steven Xu 
Master of Divinity (MDiv) 2014
Steven Xu says coming to Wycliffe was "a miracle." Feeling "hopeless" when he first arrived in Toronto, he says he cultivated a relationship with God here. Today, he helps others do the same. Since graduating in 2014 from Wycliffe College, Steven has served in outreach ministry for international students and newcomers in downtown Toronto.
Born in China, he moved to Africa to work as an interpreter in 2007. While there he had two near-death experiences that gave rise to questions about the meaning and purpose of life. Having heard the gospel while still in university through the ministry of an overseas missionary, Steven thought Christianity might offer answers to his questions and when he returned to China in 2009, he was baptized. But he recalls being "very confused about faith and life."
Later that same year, he came to Canada. Studying Culture and Religion at Wilfred Laurier, he became acquainted with postmodern thought, but answers to what he felt were life's most significant questions continued to elude him. Finding little meaning in his work and study, and uncertain of his faith, he experienced hopelessness. Still Steven found Christianity more attractive than post-modern thought, and so he decided to study theology.
A pastor friend in Kitchener-Waterloo recommended Wycliffe College as one of the best theological schools in Toronto. But two obstacles stood in Steven's way: he had no prior theological training and he did not have the funds to study. However, "Wycliffe opened a door for me to think about life," he says. He received a bursary covering one-third of his expenses; the rest came through the support of other Christians. Steven considers it a miracle that the then principal of Wycliffe College, George Sumner, recommended him as a candidate for the Master of Divinity (MDiv) program after reviewing his resume and listening to his testimony.
Steven had a pivotal faith experience during his second year in the program. One day, after a class discussion with Professor John Bowen on how to dialogue with people of different religions, Steven wondered how he could distinguish the Christian God as the true God, since other religions also believe that their gods are true. A word crossed his mind, atonement.
He had heard this word while attending church, but not understood it. But on that day, he realized that "only Jesus died for me, and no other god did." It was a moment of "breakthrough." He decided to have a personal relationship with God and surrender his doubts and concerns to God, and so, he says, he was born again. Once he had turned from atheism to theism, and finally from theism to faith in Jesus Christ.
In 2013, Steven's eyes opened to the need to reach out to newcomers, expats, and international students. Joining a church that shared the same vision, he became more certain about his calling upon graduation, recognizing his cultural sensitivity and language skills as gifting him to serve people from diverse ethnic backgrounds.
It has been five years since Steven began serving with "A Quiet Place for Internationals," an outreach ministry of Christ the King (Anglican) Church in downtown Toronto. He expresses wonder that he is called to serve in international ministry, as he considers himself also the "fruit" of such ministry. Reflecting on Acts 1:8, "But you will receive power when the Holy Spirit comes on you; and you will be my witnesses in Jerusalem, and in all Judea and Samaria, and to the ends of the earth," Steven says he is amazed that God has directed him on this path to fulfill the Great Commission. In 2018, he decided to stay in Canada to continue to serve Internationals long term.