Alumni Spotlight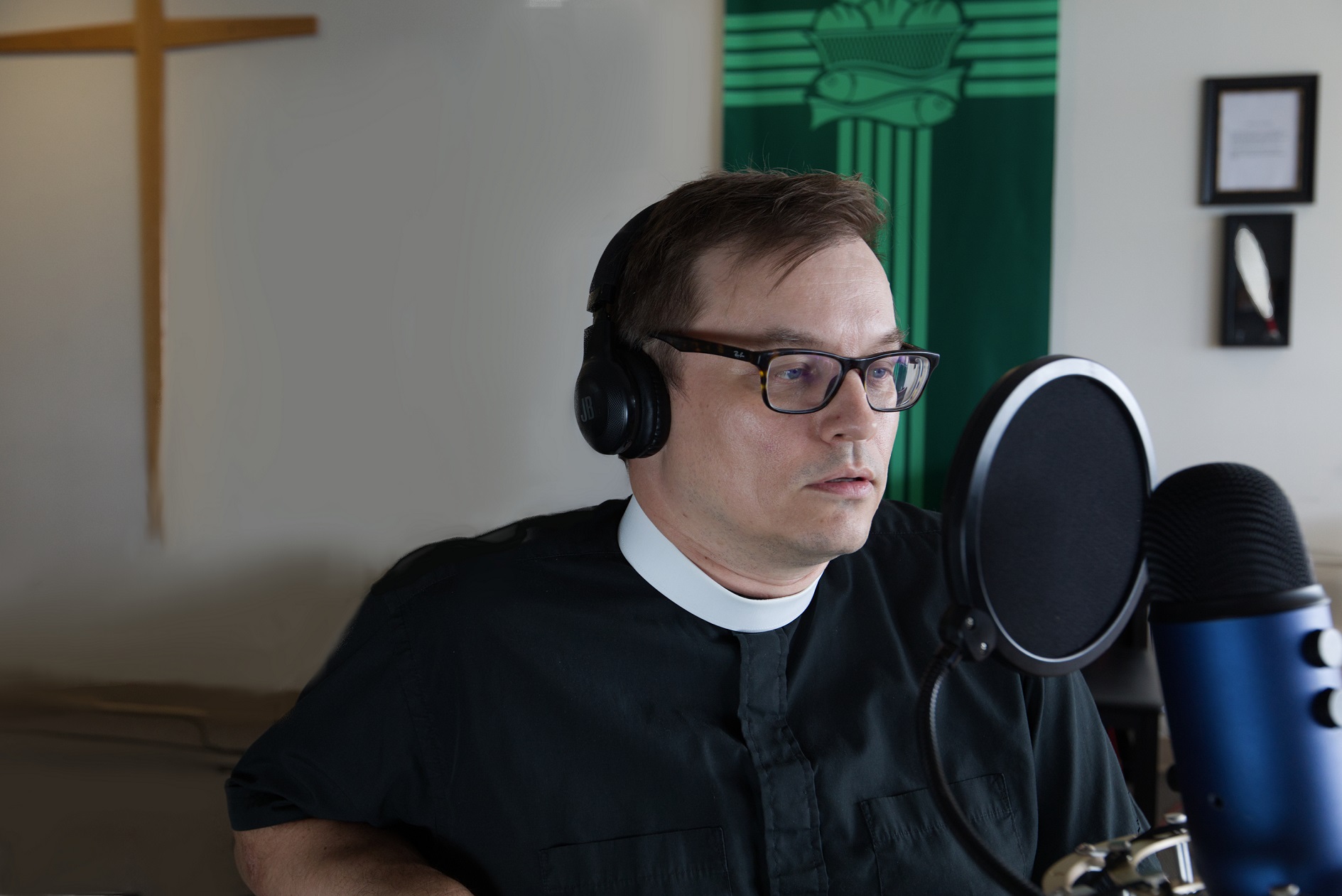 Stephen Silverthorne
Master of Divinity (MDiv) 2002
What are the marks of a welcoming, seeker-friendly church?  On the usual list, surely an informative, well-placed church sign and an attractive front porch or entrance.
But what does this look like for a storefront church in a commuter suburb? And what about when we are months into a global pandemic and no public worship? The physical space of an "attractive front porch" is a bit of a moot point, for the time being at least. At Good Shepherd Anglican-Lutheran Church in Barrhaven, the Rev. Steve Silverthorne describes the development of some digital equivalents to this "front porch"—developments that can draw in a seeker.
Investing in digital
In 2018, the Diocese of Ottawa (Anglican Church of Canada) offered grants to parishes with an innovative program or upgrade in mind. Good Shepherd, which moved to its storefront location in 2013, applied for a grant to do "a real revamp of our digital presence," Silverthorne says. Barrhaven residents, like many suburbanites, spend significant time online, as well as on the road, and many don't attend church regularly. How to bridge the gap? "For us the digital footprint was important because it provided what signs used to but don't so much when you're driving past at a hundred kilometres per hour. One of the guiding philosophies we had was that we wanted to do something to provide a front porch to the church," he explains.
With the seed money for equipment and media hosting in place, Good Shepherd had their website redesigned, and began recording sermons for download. "And then I also thought it'd be really good to have something that would mix both faith concerns and regular secular concerns. And so that was really what launched 'The Suburban Vicar Podcast,'" says Silverthorne.
When reaching out leads to a way in
It's not news that there has been a switch from reading books to audio forms of learning. And Barrhaven residents spend an awful lot of time in the car; many have government or tech jobs in downtown Ottawa. Another more worrisome cultural shift is the sense of detachment many people experience, and the strains of a commuter lifestyle—and now physical distancing!—only intensify that.
Silverthorne sees the podcast as a way to "reach out and touch someone," he says, quoting Marshall McLuhan. "I think that when people listen to podcasts a lot they get attached in a personal way. … You're listening in and you feel like you're part of that circle."
While acknowledging that just like with other social media, there can be a kind of "fakeness to that intimacy," he is hopeful that a church-based podcast can offer "a window into something that's real, a hint of what relationship you'll have with people when you come to church."
And indeed for Good Shepherd, the podcast has been a "way in" for some who, before the lockdown, crossed the threshold of the church after exploring its online resources.
Podcast practice leads to successful pivot
It had a practical impact too, once the restrictions came into play: "My podcasting work gave me a basic understanding of technology which allowed our church to pivot easily to streaming. It helps us stay connected and gives us a sense of common worship," he says.
Listening to "The Vicar's Podcast," listeners hear interviews and reviews of a cross-section of authors, some faith-based, some not. For Silverthorne, a common theme is their interest in improving the social good. "Those are the kinds of organizations that I think are natural pairings to churches, even if they're not explicitly Christian," he says.
Silverthorne's MDiv at Wycliffe helped lay the groundwork for this cultural evangelism. "Just being in the University of Toronto was really helpful because I took courses all across the board. So in a way it prepares you because it's part of that anti-fragility thing."
Everything a mission field
Further, at Wycliffe College, students become more aware that "everything is a mission field," he says. In downtown Toronto, you step outside of your apartment building and the person right across from you has "no idea about anything about church, considers it entirely irrelevant."
Work at this kind of intersection can also help the church model how to "sit across from a person who you're going to have some real disagreements with, and, especially in an age of 'gotcha journalism,' to say 'Where can we agree?' And to do it non-defensively and with genuine curiosity."
Silverthorne is also honest about the challenges of podcasting: "You read some reviews, you get on Apple podcasts and somebody gives you a high review. Just as with preaching, pandering to the audience is a real temptation." And, he says, "Quarantine also magnified the problem of evaluation: how do I know the time and effort I spend on this is well spent? Are people growing in their capacity to love God and neighbour as a result of what I am doing? Outside of quarantine I can talk to people who listen and gauge their responses. In quarantine, it's tempting to base the worthiness of the endeavour on clicks and followers."
Shining a light on what's already there
But he cites his training at Wycliffe as a help in this regard as well: "There's a strong focus on preaching, and I had great preachers to learn from. And you absorb a real value of Scripture and a real confidence that the Bible really has something to say, and that you don't have to put a cherry on top—you just need to shine a light on what's already there. Because I believe in God's providence, I believe that the Scriptures speak, even if I don't exactly know how. I know that I can rely on God's Spirit to be working on the listeners' hearts."
Silverthorne is aware of the "nowhere-ness of digital streaming," and still looks forward to the podcast being an invitation, that "front porch" to an embodied Gospel community, which empowers us to "love and serve the people God has placed us near."
---
This piece is written by Sharon Dewey Hetke. Sharon is an Associate Editor with The Anglican Planet and is National Director of the Anglican Communion Alliance.  She lives in Napanee, Ontario with her husband, Richard, and their three teenagers. Her interests include politics—both ecclesial and secular–and ethics and public policy.