Faculty Spotlight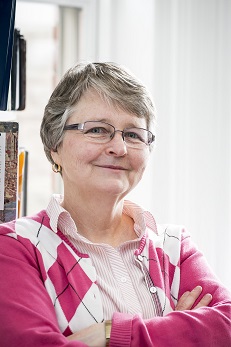 Professor of Old Testament
Professor Taylor shares about how she discovered an enriching world of women interpreters of the Bible, and what we can learn from one of them: Harriet Livermore.
"Are there any lives of women?" said Mara.

"No, my dear," said Mr. Sewell; "in the old times, women did not get their lives written, though I don't doubt many of them were much better worth writing than the men's." 

- Harriet Beecher Stowe, The Pearl of Orr's Island (1862)
Until one of my students asked if she could write a paper on an early woman interpreter of Scripture in 2002, I had assumed that women did not get their interpretations of the Bible published. In my years of training as an Old Testament scholar, I have never been asked to read anything written by a woman who had commented on the Bible before the 1970s. I had wrongly assumed that women had not published books on the Bible or theology. But I was very very wrong.
My student's question initiated a very exciting research project that has unearthed the forgotten writings of hundreds of women and spawned a number of publications. I have many favourite interpreters who inspire me and push me to read texts in new ways.
Harriet Livermore (1788 –1868) is one of my favourite interpreters right now as I am researching nineteenth-century women's writings on the Apostle Paul. The first of the seventeen books that Livermore published in 1824, Scriptural Evidence in Favor of Female Testimony in Meetings for the Worship of God, is as she describes it, "a scriptural defense for preaching" for those whose minds are "hedged in by unbelief on the subject by certain passages of Paul's." Livermore's defense for women's preaching includes careful exegesis of challenging texts such as 1 Corinthians 11 and 14. It also looks more widely at what the Bible has to say about women's roles elsewhere in the Old and New Testaments.  
The questions Livermore asks at one point in her discussion of key verses in 1 Corinthians 11 and 14, illustrate the kind of passion that she brings to her writing:
"How can any rational, candid, meditative Christian direct this language of the Apostle to female disciples at large in meetings for the worship of God? Has [Paul] not in a preceding chapter, given directions concerning women's praying and prophesying? Would this holy man undertake a revocation of the Almighty will? God declares his handmaidens shall prophesy in the last days; can we charge Paul with contradicting God?" (92)
Harriet Livermore spent her life preaching the gospel globally. Her careful reading of Scripture enabled her to conclude: "So far am I removed from doubts respecting women's duties, on the score of Paul's address to the Corinthians, that I view him a strong advocate for female liberty in the church of Christ, and doubtless he is a ministering angel to the weeping Marys and godly Phebes in the present day." (98)
Livermore's interpretations of Scripture deserve to be remembered and studied. Her writings give us a window into her life and perhaps, more importantly, push us to engage challenging texts in Scripture in new ways.
------
Marion Taylor is a graduate of Yale University and has taught at Wycliffe College since 1986. In 2012, she published the award-winning Handbook of Women Biblical Interpreters: A Historical and Biographical Guide. She is currently working on commentaries on the books of Ruth and Esther.  In the summer of 2019, she will be teaching a course on "For Such a Time as This": Insights and Issues from the Books of Ruth and Esther for Today.