Faculty Spotlight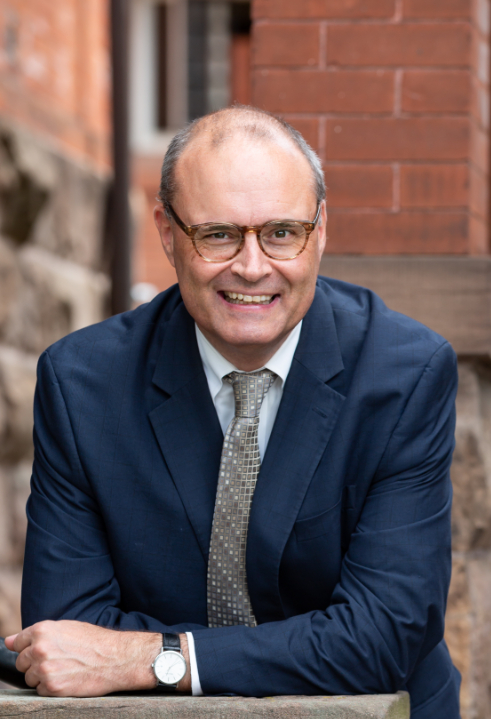 Stephen Chester
Lord and Lady Coggan Professor of New Testament
When Stephen Chester was seven years old, his family moved from Liverpool—where he was born and where generations of Chesters had lived—50 kilometres away to North Wales. He remembers the feeling of leaving behind everything familiar. In spite of the relatively short distance, the move initiated a time of significant transition for the boy.
"It was moving from a city to a rural area, from England into Wales," he says. "So the culture was very different. Wales had its own distinct identity. Suddenly I had to do Welsh classes every week in school. All of that was good, but it was a bigger transition than you might expect."
That major change was helped by a happy, stable home life and, looking back, he believes it served to equip him for other future and even bigger transitions and challenges when they came along. He moved away from home for university (studying history at the University of York). Then, after completing his undergraduate degree he moved again, this time to Glasgow, where he volunteered with Ruchazie Parish Church for a year, running a drop-in centre and setting up a credit union.
The witness of the congregation and their deep commitment to serving their community in Christ's name made a strong impression upon him, and life in Glasgow was transformative.
Following his volunteer year, he took a job working in public housing, met his wife, Betsy, who taught in a local school, and sensed God calling him to ministry. He returned to school to pursue theological studies and, eventually, ordination (with the Church of Scotland). "We expected to stay in Scotland for the rest of our lives," he concedes.
But delving into theology, "I became gripped by biblical studies," he says, "and by the end [of the Bachelor of Divinity degree] I wanted to do a doctorate."
The doctorate led to a teaching job, which in 2006 provoked another move, this time a half a world away to North Park Theological Seminary in Chicago where Stephen would go on to hold the positions of Associate Professor, then Professor of New Testament, and Academic Dean.
Asked how he sensed God leading and directing him throughout all of those transitions, he says it was "Largely through circumstances and the Lord speaking through other people."
So it was with God leading him to Wycliffe College, where he took up the post of Lord and Lady Coggan Professor of New Testament on August 1, 2019.
"An email popped into my inbox and I thought, 'Who is Stephen Andrews? I don't know any Stephen Andrews,'" he laughs. "He asked if I would be interested in applying. … Once I'd learned more about Wycliffe and had a chance to visit, I felt there was a really good fit between what the school was looking for and what I could bring."
One of the things he will bring is a genuine love for helping students grow and helping them to consider the contemporary relevance of biblical texts.
"Within the academic discipline you can pursue biblical studies as a purely historical discipline," he explains. "History matters profoundly. But at the end of the day, it's not just about history because the texts we're studying are God's Word for us. They were given to empower the mission and ministry of the church between Christ's resurrection and Christ's return. They are intended by the Spirit to guide us through the world in which we find ourselves."
*
As Lord and Lady Coggan Professor of New Testament, Dr Chester will teach a range of courses and supervise doctoral students. He is the author of several books, including Reading Paul with the Reformers: Reconciling Old and New Perspectives (2017, Grand Rapids: Eerdmans), winner of the 2018 Christianity Today award for best book in Biblical Studies.