Book Release: Protestants, Catholics, and University Education by Thomas Power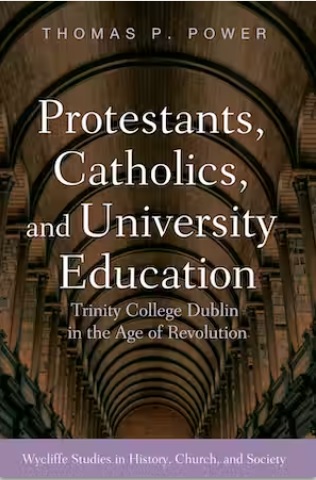 Protestants, Catholics, and University Education: Trinity College Dublin in the Age of Revolution, the latest published work by Thomas Power, Professor Emeritus of Church History at Wycliffe College, is included as part of the Wycliffe Studies in History, Church, and Society series. This new monograph explores how higher education emerged as a vital battleground within the religious conflict of the sixteenth century – a time when education was seen as central for spreading the ideas of the Reformers. Here, Power takes up Trinity College Dublin as a case study of the larger denominational divisions present in European education, while also using the French Revolution – one that had inhibited Catholic educational facilities in Europe – as a backdrop. The book explores the ways and extent to which, in an era of revolutions, a Protestant institution's accommodation of Catholic needs came to exert significant, long-term influence over higher education in Ireland.
Thomas Bartlett, Professor Emeritus of History at University of Aberdeen, writes that this new volume, available on the Wipf and Stock Publishers website, "breaks new ground by offering a scholarly and forensic examination of the education aspects of the penal laws [against Irish Catholics]." James Kelly, Professor of History at Dublin City University, also praises Power's "exceptional knowledge of the history of Trinity College Dublin and Ireland in the eighteenth century" and how the work "adds to our understanding of Irish high politics, the history of the University, and the repeal of the penal laws against Catholics."
Thomas P. Power is sessional lecturer in the History of Christianity at Wycliffe College, University of Toronto. He is the author of The Apocalypse in Ireland: Prophecy and Politics in the 1820s (2022) and General Editor of the series Wycliffe Studies in History, Church, and Society.