Remembering Bob Haslam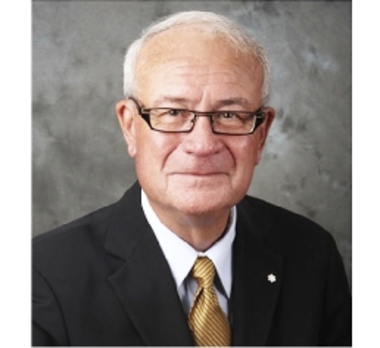 Bob Haslam was an important figure in the life of the College in the late 1990s. This was a period of significant change at Wycliffe, as the Board had recently been restructured from a body that numbered up to 50 to a much smaller group of 18 Trustees. It was also when the College was looking for new leadership, following the resignation of Principal Michael Poutney in 1998. Bob and others saw that, for the College to thrive in the new millennium, it needed a structure that was nimble and a leader who was dynamic. With a devolving of staff roles and the hiring of The Rev. Dr George Sumner in 1999, the College struck out on a path of significant growth, the benefits of which we continue to enjoy today. The grandson of a Wycliffe College graduate, Canon R.H Albert Haslam (1903), Bob received an honorary doctorate from the College in 2006. He died 30 March 2020.
Ann Jervis, Professor of New Testament: 
Dr. Haslam's parents may have named him Robert, but he went by Bob.  And that said a lot. Dr Haslam was highly regarded in the world of medicine and the world of the church. But he was always Bob. This humility and approachableness were rooted in Bob's profound and practical faith. He displayed the fruit of the Spirit in abundance. What I got to witness especially was love, peace, kindness, gentleness, and self control. I am pretty sure someone who knew him better would say that he also exhibited the rest of the Spirit's fruit. Wycliffe College was mightily blessed to have been given Bob Haslam's care, skills, and devotion. 
Bishop George Sumner:
Loyal, kind, devout, incisive, good-humored, compassionate, calm, lively, gracious—I could easily go on. Bob Haslam hired me as principal, and as a son of a doctor, I always found him paternal in all and only the best senses. I, like many others, feel gratitude to him. Others can speak of his medical and scientific accomplishments, which were many, but I could easily see what a great doctor, healer, he was. Visiting him in his home in the foothills of the Rockies was a lot of fun. Bob was a descendant of a founder of Wycliffe, literally, but also in spirit, for he was a man of strong and generous faith quick to reach out. Now he stands before his Lord in the eternal Easter, peace +GRS
Principal Stephen Andrews:
The College was greatly saddened at the news of the death of Bob Haslam. We are grateful for the leadership he exercised as Chair of the Board at a critical time in Wycliffe's history, as well as his continued loyalty to the College in his retirement. He will ever be remembered as a man of great integrity and as a wise steward of the gifts and responsibilities he shared. Our prayers ascend for Barbara and his family.