Remembering the Rev. Dr. Marwood (Marney) Patterson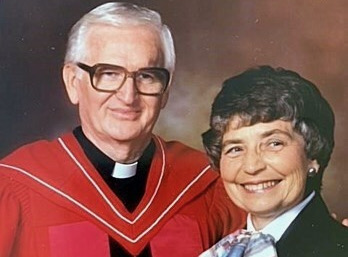 Wycliffe College is giving thanks for the life of the Rev. Dr. Marwood (Marney) Francis Patterson. Born in 1927, he died on February 24, 2022. Marney was a three-time graduate of Wycliffe College (Bachelor of Divinity, 1956; Licentiate of Theology, 1965, and an honorary Doctor of Divinity, 1988). He was ordained in the Anglican Church of Canada (Diocese of Toronto) in 1955 where he served as a parish priest for 12 years.  
In 1966 he established "Invitation to Live Ministries" a worldwide, itinerant, inter-denominational Evangelistic Ministry. As Founder and Director for 44 years, he ministered in hundreds of Churches worldwide including over 500 Anglican Churches in 33 Countries, in 93 Diocese and on six Continents.  
He was an adjunct professor at Wycliffe on the subject of evangelism and has written several books on the subjects of evangelism and the church. Wycliffe College conferred the honorary Doctor of Divinity degree on Marney in recognition of his extensive contribution to evangelism, and in 2021 Wycliffe College also granted him the "Archdeacon Harry St Clair Hilchey Award for Distinguished Service," and established the "Chair of Evangelism" in his name. 
"A parish priest with a heart and a gift for evangelism, Marney Patterson took up an itinerating ministry at an important time in the Church's rediscovery of its missional mandate," says Wycliffe College Principal, Stephen Andrews. "A delegate to the World Congress on Evangelism in Berlin in 1966 and the Executive Secretary of the Canadian Congress on Evangelism in Ottawa, Marney enjoyed the support of both the General Synod and the Primate for much of his ministry." 
"He was the only full-time Anglican evangelist in North America," Andrews adds. "He once quipped that God called him to be an evangelist 'not in spite of being an Anglican, but because of it!' In the late 1980s, when evangelism was often being disparaged in the church as the 'e' word, Marney's compassionate and winsome example gave evangelism respectability and paved the way for the establishment of Wycliffe's Institute of Evangelism. The Wycliffe community joins me in giving thanks for his life, and we pray God's comfort for those who mourn his death." 
Former Wycliffe College Principal, Bishop Peter Mason says he was saddened to learn of Marney's death. "Marney's heart and soul was on fire for evangelism," Mason remembers. "After serving as a parish priest, he recruited a team of itinerant evangelists and offered his ministry to the wider church."
"One of his first missions or crusades was held in a tiny Anglican congregation near Montreal in 1967," Mason continues. "I was a theology student in charge and relished Marney's week-long ministry of preaching and worship. Several members of that congregation attribute their conversion and renewal to God's work through Marney."
"He surely now experiences the Lord's abundant life, which he faithfully offered to countless others."
Predeceased by his wife Joan, Marney leaves behind four children, 12 grandchildren, and 18 great-grandchildren. 
Photo: Marney Patterson is pictured in his Wycliffe regalia standing with his wife, Joan.