Wycliffe College Sending 10 Faculty and Students to SBL/AAR Annual Meeting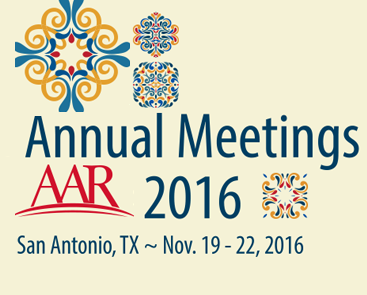 This year, Wycliffe College is pleased to send ten students and faculty to present at the San Antonio 2016 Annual Meeting, November 22 – 26. The American Academy of Religion brings thousands of professors and students, authors and publishers, religious leaders and interested laypersons to its Annual Meeting each year. Co-hosted with the Society of Biblical Literature, the Annual Meetings are the largest events of the year in the fields of religious studies and theology. Some 10,000 people attended the 2015 Annual Meetings, enjoying access to more than 1100 academic sessions and additional meetings. Plan to join your friends and colleagues in San Antonio for the 2016 Annual Meetings!
This year's presenting Wycliffe faculty and staff include:
Terence L. Donaldson, "Nations," "Non-Jewish Nations" or "Non-Jewish Individuals": Matt 28:19 Revisited
L. Ann Jervis, No End in Sight: Towards Understanding Paul's View of Time
Marion Taylor, Respondent in the "Women of War and Women of Woe" panel
Jin Hwan Lee, Rethinking the Temporal Reading of prolambano in 1 Cor 11:21 and Provisioning the Corinthian Lord's Supper in light of Banquet Practice in Greco-Roman Private Associations
Andrew C. Witt, Pursuing Wisdom in the Footsteps of Solomon: A Sapiential-Figural Reading of the Song of Songs
Nathan Wall, Like Priests, Like People: Figuration and Inner-Biblical Exegesis at the Bookends of the Twelve
Dae Jun Jeong, A Coherent Interpretation of the Incidents in Judg 19-21
Kai-Hsuan Chang, Scribal Memory as the Oral-Written Interface and the Synoptic Problem
Jason N. Yuh, Paul's Kodak Moment: Analyzing Gal 3:27's Reference to Baptism through Studies of Memory, Embodiment, and Ritual
Jason N. Yuh, A Literary Juxtaposition of 1QM X 1-8 and XIII: A War That Exudes Both Fear and Trust, and Fulfills Both the Lot of Light and Darkness
The Toronto School of Theology will also be hosting a reception for TST students, alumni and faculty attending the Annual Meeting on  Saturday, November 19, 2016 at  9-11 pm in the Marriott Riverwalk-Alamo B (2nd Level). All are welcome to attend.