Women's Breakfast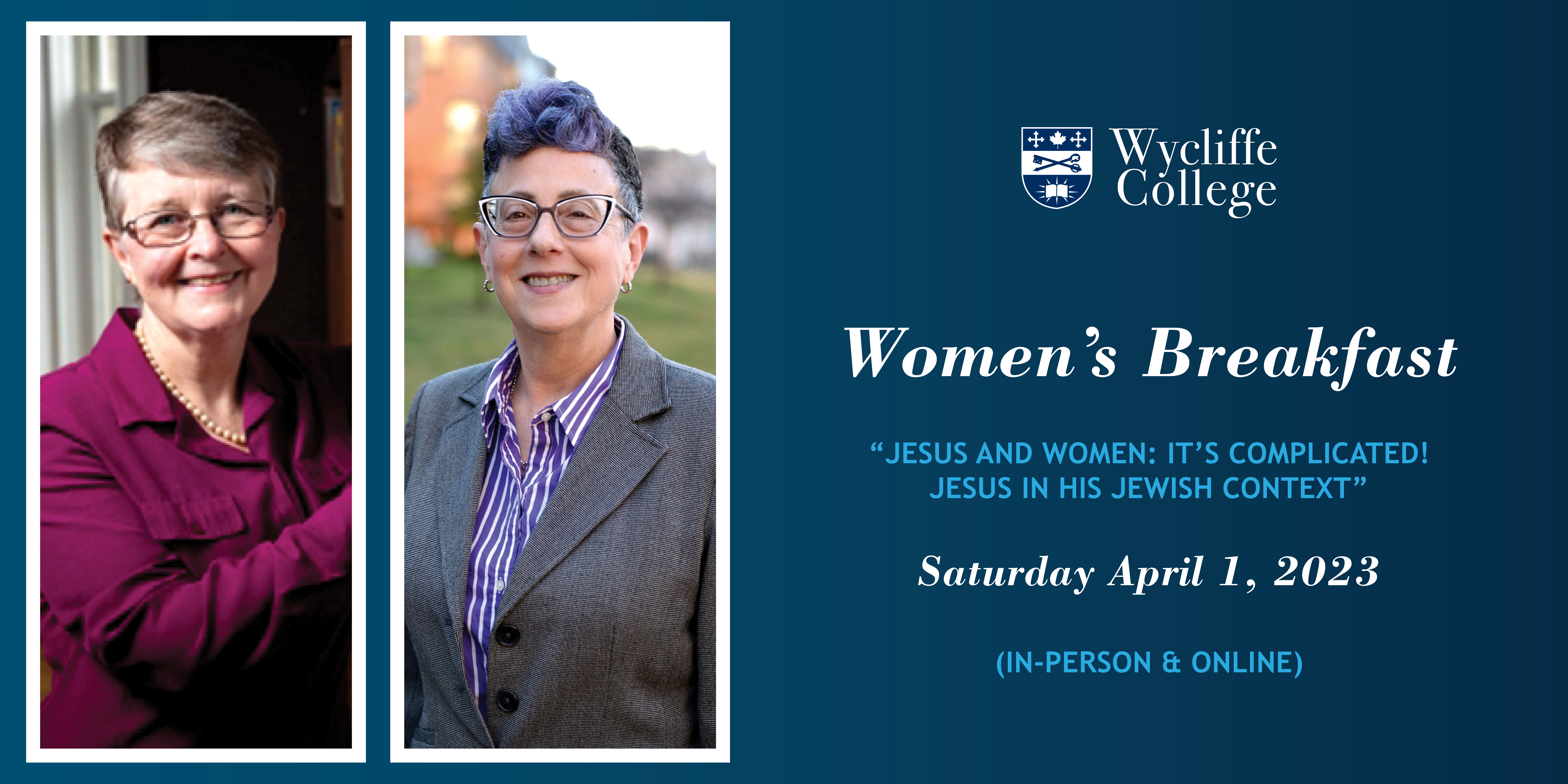 When
Saturday, April 1, 2023 -

9:00am

to

12:00pm
Where:
In-person at Wycliffe College and livestreamed through Zoom for individuals, host-churches, and small groups
Email:
Wycliffe College invites you to the Women's Breakfast on Saturday April 1st from 9:00 a.m. - 12:00 p.m. EST (9:30 am for online)  with Dr Marion Taylor and special guest Dr Lori Baron. This event is available in person at Wycliffe College, online over Zoom, and livestreamed to a host-church or small group.
In addition to Dr. Taylor's presentation, you will meet women currently studying at Wycliffe and hear more about their personal stories of calling as well as their journey of spiritual formation.
In-person tickets are $15.00 and pre-registration is required. There is no charge for the online and livestream events, but registration is also required. Tax receipts will be issued for any donations made toward women's bursaries at Wycliffe College.
We are excited to offer the Wycliffe College Women's Breakfast to churches and small groups who are looking for an easy way to encourage fellowship and learning in their Women's Ministries. Is this something your church would be interested in? There is no cost for the livestream, so all you need to do is host a simple breakfast and get your guests there. We will have step-by-step instructions on how to access the live-stream and a detailed plan to help you run your very own Wycliffe College Women's Breakfast! If you are interested, please contact give@wycliffe.utoronto.ca for more information.
The deadline to register is March 28th and we look forward to seeing you at the Women's Breakfast on Saturday, April 1st.
---
Speakers:
Dr. Marion Taylor, Professor of Old Testament is a graduate of Yale University and has taught at Wycliffe College since 1986. In 2012, she published the award-winning Handbook of Women Biblical Interpreters: A Historical and Biographical Guide. Marion's commentary on Ruth and Esther was published in 2020 in Zondervan's Story of God Series. She is very excited about the new book that tells the stories of over 400 women interpreters of the Bible that Marion wrote with Joy Schroeder.

Recent Publications

Women of War Women of Woe: Joshua and Judges through the Eyes of Nineteenth-Century Female Biblical Interpreters, Christiana DeGroot and Marion Ann Taylor, (Grand Rapids: Eerdmans, 2016)
Women in the Story of Jesus: The Gospels through the Eyes of Nineteenth-Century Female Biblical Interpreters, Marion Ann Taylor and Heather E. Weir, (Grand Rapids: Eerdmans, 2016)

---

Dr Lori Baron, Dr. Lori Baron is Assistant Professor of New Testament in the Department of Theological Studies at Saint Louis University. Her research focuses on the early Jesus movement within its Jewish context. Her recent monograph, The Shema in John's Gospel (Mohr-Siebeck, 2022), examines John's use of the Shema (Deut 6:4-5) in portraying the relationship between Jesus, God, and those who followed Jesus the Messiah.  
---
Tickets to the in-person Women's Breakfast are limited. If the tickets are sold out please contact give@wycliffe.utoronto.ca and you will be placed on a waitlist. You will be contacted if tickets become available.
Please register for this event by clicking the 'Register' button on this page, or contact give@wycliffe.utoronto.ca if you have any questions.