In Memory of Reverend Canon Doctor Reginald Francis Stackhouse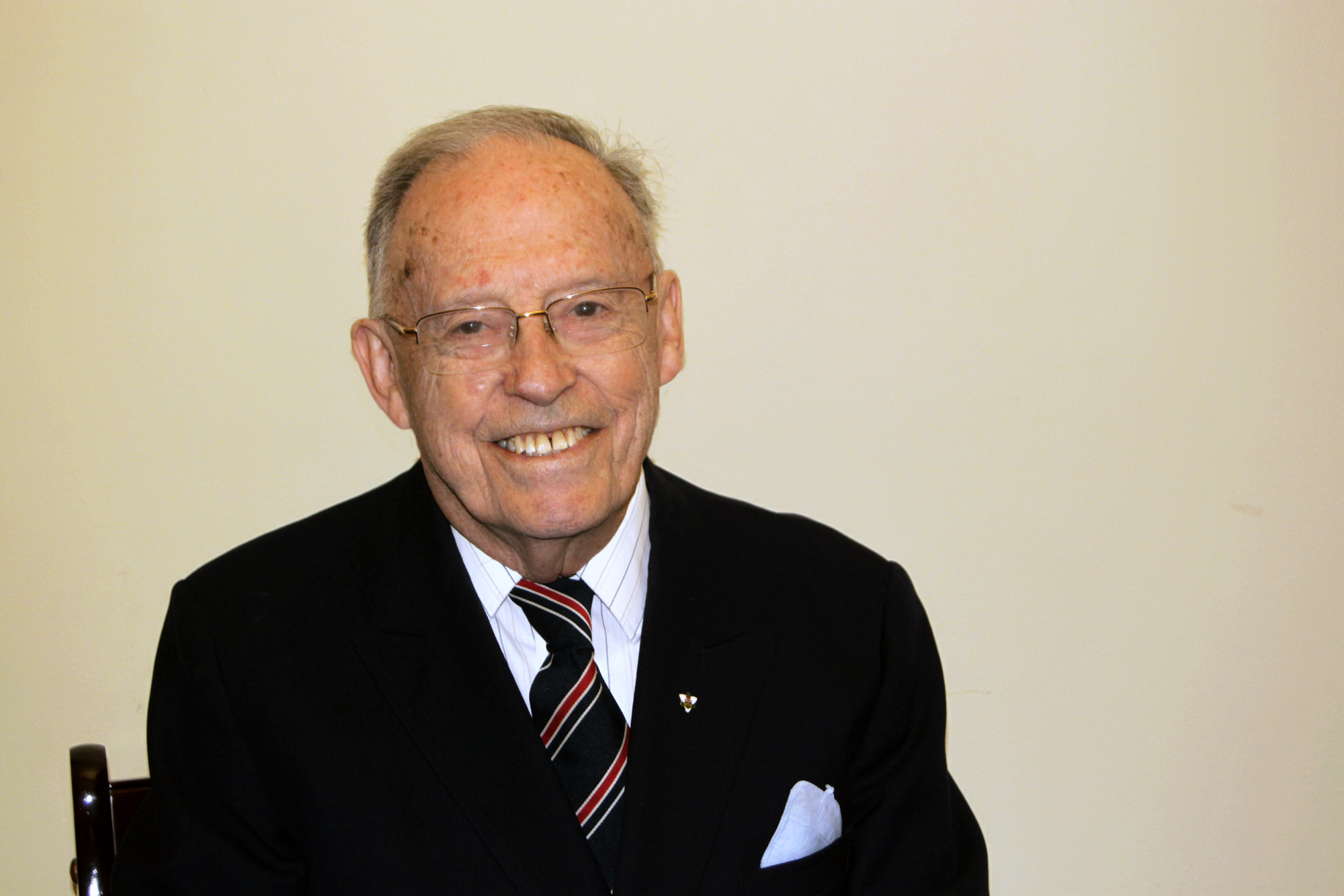 Dear friends,
It is with deep sadness that we wish to inform you of the death of Wycliffe's sixth Principal, the Reverend Canon Doctor Reginald Francis Stackhouse.

Principal Stackhouse died at Toronto Western Hospital on December 14, 2016. He was 91 years old. 
"Reg" as he was affectionately known in the halls of Wycliffe, served as the College's Principal, during the years from 1975 to 1986. His inaugural address highlighted his vision that Wycliffe should be a community of faith committed to scholarly analysis, a vision that was realized during his tenure, and which lives on to this day. 
"The spirit at Wycliffe today is a mix of both sadness and gratitude," says Wycliffe's current Principal, Stephen Andrews. "Sadness that we have lost the architect of the modern College and Wycliffe's most ardent supporter. And I am personally sad, as I have lost my former Principal and a valued mentor."

"A man of greater optimism, loyalty, and humour than Reg Stackhouse I have never met," says Wycliffe College's ninth principal, George Sumner. "I owe him much in ways public and private. And did he ever love Wycliffe College! But what I remember most is how in most recent years, his mind came to be dominated by a vision of how God's hand was over all that had happened, in retrospect, in his life and ministry: a blessed insight at the close of a Christian's life. Now this good and faithful servant can see this yet better on that further shore."

"Reg's ministry at Wycliffe was all about renewal," says Wycliffe's seventh principal, Peter Mason. "Renewal of the faculty, of the Board of Trustees, and renewal of the bricks and mortar on Hoskin Avenue. Today hundreds of former students, colleagues, and friends give thanks to God whom Reg served so faithfully; now in company with his dear wife Margaret, may he rest in the full presence of our Lord Jesus Christ."

"All of us at Wycliffe are grateful for Reg's legacy, which lives on," Andrews says, "a legacy of a deep and reasoned faith, anchored in the hope of the Risen One."  
That legacy will be long felt by the Wycliffe community: Always concerned with the carrying of the Word into the world, Reg would personally furnish graduates each year with a Bible to remind them of their vocation and charge. The Stackhouse Scholarship, which he began, will continue to provide bursary support for students called to ordained ministry for years to come. Finally, his account on the first 125 years of Wycliffe College in his book, The Way Forward: A History of Wycliffe College, Toronto, 1877 – 2002 (University of Toronto Press, 2002) provides the historical foundation for the next stage of Wycliffe's role as an instrument of learning, worship and renewal.
Rev. Stackhouse will be resting at Turner & Porter Funeral Home, Yorke Chapel, 2357 Bloor Street West, Toronto ON, M6S 1P4
Visitation:
            Saturday – 2:00 – 5:00 p.m.
            Sunday – 2:00 – 4:00 p.m.
The funeral will be held Monday December 19, 2016 at 10:00 a.m.
            At Sheraton Hall, Wycliffe College
            5 Hoskin Avenue, Toronto, ON M5S 1H7

In lieu of flowers, the family asks memorial contributions to be made to Wycliffe College. Donations can be made online, or mailed to 5 Hoskin Avenue, Toronto, Ontario M5S 1H7.
Note to Clergy:
Clergy are invited to robe for the funeral: cassock, surplice, scarf and academic hood.
If you wish to robe, please confirm by emailing Karen Baker-Bigauskas
Robing in Cody Library.