Remembering Dr Richard Longenecker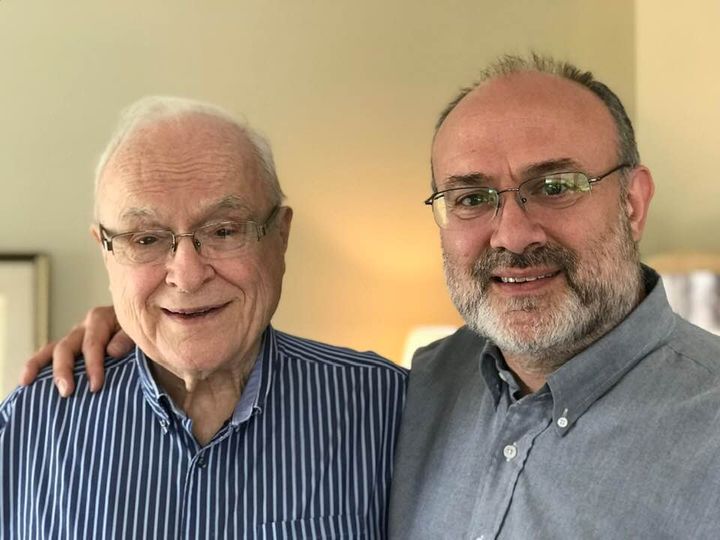 Alumni, faculty, and staff of Wycliffe College were saddened today to learn of the death of Professor Emeritus Dr Richard N. Longenecker. Dr. Longenecker—who made his home in Brantford, ON—died Monday, June 7, 2021. Predeceased by his wife Fran (2016), he was in his 91st year.
Richard Longenecker taught at Wycliffe College for 22 years (1972–1994) and was our Ramsay Armitage Professor of New Testament. He was instrumental in enhancing the academic credibility of the College so that it became a destination for evangelical students seeking to study at the doctoral level. Moreover, his status as an American Baptist layman opened the doors of the College to students beyond the Anglican Church. Professor Alan Hayes writes, "His appointment represents the turning-point for Wycliffe in enlarging its mission from the narrow focus of training people for the Anglican ministry to a more ecumenical and diverse vision for evangelical theological scholarship. He designed a new program (the Master of Religion degree) for students preparing for a diversity of lay and ordained ministries in the wider Church, including advanced research." Dr Longenecker was also an Associate Alumnus of the College and received Wycliffe's Doctor of Divinity degree in 1996. We thank God for his life and ministry, and, with many who called him friend and mentor, we pray for his family as they grieve his death.
Following are reflections of some of his former students and colleagues. 
"In my first semester at Wycliffe College, I took a Toronto School of Theology (TST) course titled 'Introduction to the New Testament.' It was a survey course in which eight New Testament faculty at TST would each take turns lecturing on a particular New Testament subject. Much of what was taught in those classes had the effect of instilling a kind of scepticism about the Bible, as professors challenged the historical veracity of the text and expounded on the naivety and prejudices of the biblical authors. At Wycliffe College, these classes were then followed by what were called "Tutorials." Among the students, we referred to these as "deprogramming sessions." Here, masterfully, Dr Longenecker would supplement what we had learned in class and give students a thoughtful and respectful rejoinder to the critical views we had ingested.
What stood out for me, and what inspires me still, was his comprehensive knowledge of the field and his generous engagement with critical ideas. While many called him an evangelical champion, I always viewed him as more of a statesman, and a man whose love for Christ and his word made him curious, gentle, and kind."
-     The Rt Rev. Dr Stephen G. W. Andrews,
       Principal,
       Wycliffe College
"I was drawn to study at Wycliffe by the presence of Richard Longenecker. He was not only a renowned New Testament scholar, but also a non-Anglican, which suggested an open and ecumenical spirit at the school. He embodied such a spirit. His writings and teachings inspired us, and his warmth, wisdom, and kindness were a constant source of encouragement in and out of the classroom. Some years later he arranged for me to preach at the anniversary of his church and while there I was reminded of his deep devotion to Christ and compassionate care for others. He was a gift to the whole church. It was a great privilege to know him and to be one of his students."
 -     The Rev. Dr Peter Holmes,
        Minister of the Congregation,
        Yorkminster Park Baptist Church
"Not long after I had completed my doctoral program under Dr. Longenecker's supervision (it was only later that I felt comfortable calling him Dick!), I had occasion to thank him in print 'for the model that he supplies for all his students of rigorous scholarship combined with warm personal concern.' Now I give thanks for his lifetime of exemplary scholarship and transformative mentorship, and I join with a multitude of others in commending him to God's loving care. "
-    Terence Donaldson,
      Professor Emeritus of New Testament,
      Wycliffe College
"Dr Longenecker was so much more than my excellent dissertation director. His Christian love and character, which manifest themselves in countless practical ways, were immensely formative and transformative for me. I believe that God has welcomed him, saying, 'Well done, good and faithful servant.'"
-    Ann Jervis,
     Professor of New Testament,
     Wycliffe College
     Read Dr Jervis' tribute to Dr Longenecker at Christianity Today.
"Richard Longenecker was one of my very favourite professors. He was an amazing teacher. I loved his classes and I still remember the outlines of lectures on Hebrews and Luke that filled the blackboards of Wycliffe's West Lecture Room. I am grateful for his encouraging me—and so many others—to pursue advanced studies in Bible."
-          Marion Taylor  
            Professor of Old Testament, Graduate Director
            Wycliffe College
"He was a wonderful friend and colleague.  Everyone who knew him recognized his sterling Christian character, his personal integrity, and his kindness."
-          Alan Hayes
            Bishops Frederick and Heber Wilkinson Professor of Church History
            Wycliffe College
"In my first few years as Principal the morning chapel services were led by faculty. Tuesdays belonged to Dr. Longenecker and it is safe to say faculty,  staff, and students anticipated his blend of Anglican Morning Prayer with biblical exposition week in and week out. Scholarship and piety blended seamlessly, and we went on our daily ways with hope and optimism. 
Thank God for Richard Longenecker...one of His shining saints."
-          Peter Mason
            Former Principal,
            Wycliffe College
"One of the main reasons I came to Wycliffe was the prospect of studying under Prof. Longenecker. I remember him as a careful and erudite scholar, a kind and generous person, and deeply committed to the interpretation of Scripture. He was also unfailingly professional: he once apologized to me, at a summertime meeting at some stage in my doctoral program, for not wearing a tie. I think the most important thing he taught me is that a faithful reading of the biblical text – one that is relevant for today – can and should begin with a patient, historically-contextualized exegesis."
-          Dan Smith
            Dean of Theology
            Clark and Mary Wright Professor of New Testament Theology
            Huron University College
"What a privilege to have had Dr Longenecker for all of my New Testament courses and also as a mentor during my doctoral studies. I did the Master of Religion course that he designed and it was a fabulous experience. But Dr Longenecker taught me much more than academics: his life was a model of Christian discipleship from which I am still drawing rich lessons. My sincere condolences to his family."
-          Michael A G Haykin
           Professor of Church History
           Southern Baptist Theological Seminary
"We remember Dr. Longenecker and his dear wife as faithful members of our Queen Street Church family in St. Catharines. He was a giant of a man in every way. We remember his humility & kindness and his willingness to pitch in when we needed someone to hold up walls! He was such a dear man who cared deeply for his family. His gentle smile told it all. Yes, a giant of a man and someone who loved and lived for his Lord. He will be missed."
-          Robin & Patti McDonald
"It was the prospect of studying with Longenecker that drew me to Wycliffe College/Toronto School of Theology.  A true model of fastidious Christian scholarship and kindness.  As an example of the latter, during my first year as a doctoral student, I fell ill and Longenecker sent me a large fruit basket with get well wishes.  It is a special pleasure to see the names of those who have written the tributes here, several of whom I have had the pleasure to know, colleagues and students of Longenecker's whose own contributions to scholarship and ministry have been considerable and stand in their own right as tributes to Longenecker as Christian, scholar, teacher, and friend.  My condolences to his family!"
-         Ronald V. Huggins
           Formerly professor of Historical and Theological Studies at Salt Lake Theological Seminary and of New Testament and Greek at Midwestern Baptist Theological Seminary. 
"My connection with Dr. Longenecker predates his lengthy ministry at Wycliffe. He was my esteemed NT professor at Trinity Evangelical Divinity School in the early 1970s and we crossed paths again when I served on the pastoral staff at Knox Church, Toronto in the late 1970's. His sweet spirit combined with unwavering biblical commitments dominated his ethos in those days. One tiny factoid stuck with me that helped when I became a seminary prof. He could not eat ham or onions. Students, I learned, retain more of what their professorial heroes say than we sometimes realize!"
-         Greg Scharf
           Professor Emeritus of Homiletics and Pastoral Theology
           Trinity Evangelical Divinity School
"He was my advisor when I commuted to Toronto from far away. One week, he told us that our class was being rescheduled to a new time -- for the next week only.  But when I got there after a two hours + train ride, I arrived at the very end of his 2 hour class.  He apologized for not thinking of me at a long distance when the lecture was rescheduled again, and INSISTED on staying for the next 2 hours to re-do the lecture for me alone!
I later had him speak to several different groupings at the very diverse congregation I led, and he connected wonderfully with each part of our church. Each time our paths crossed over the years brought great joy!
Thanks be to God for a truly exceptional human being!"
-         Rev. John W. Vlainic
           Retired Pastor and Teacher
"I am shocked to learn that Dr. Richard Longenecker has returned to the glory of our Lord Jesus Christ.  I have often thought about him and wanted to pay him a visit to tell him how much he has impacted me ever since my Wycliffe studies from 1991-94.  Over that time, I had taken 6 NT courses from him, which have laid a strong scriptural foundation of the gospel for my spiritual life and as a pointer for my life-long church ministry.  Dr. Longenecker was not just my NT professor, showing an exemplary piety grew from both scholarship and devotion, but also a friend in Christ who cared for Asian students to be trained in a western seminary but on graduation would minister in a very different Asian cultural context.  I remember one time I asked him why he chose to teach at Wycliffe, an Anglican seminary. He said Wycliffe was located in Toronto, a world travelling center where he could dialogue with international scholars and teach students coming from every part of the world.  I am deeply thankful to Dr. Richard Longenecker for teaching me the Word of God, which draws me into Christ by the Father through the Holy Spirit."
-         Rt Rev'd Stephen Leung
           Area Bishop (Asian & multicultural ministries), Anglican Network in Canada
           President, Asian and Multicultural Ministries in Canada
           Rector, Anglican Network Church of the Good Shepherd
In the photo: Dr Richard Longenecker (left) is pictured with his son, Dr Bruce Longenecker (right).